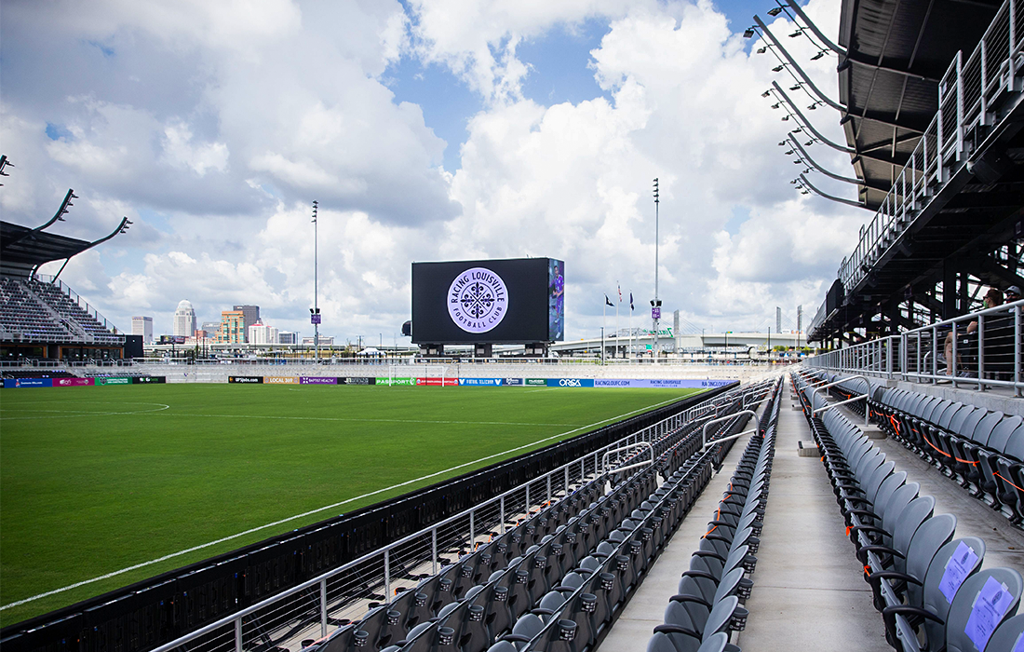 I understand that my rights under the Agreement are subject to, and I hereby agree to, (i) Soccer Holdings, LLC's Terms of Use at https://www.loucity.com/termsandconditions and https://www.racingloufc.com/termsandconditions.
I understand that the Tickets will be delivered to me through my LouCity/Racing SeatGeek account. I understand that I may only resell the Tickets through SeatGeek's secondary ticket online marketplace.
Rights reserved: Soccer Holdings, LLC may, in its sole discretion, amend, update, and/or modify policies, prices, procedures and other terms and conditions relative to your (as defined below) Membership, including this Agreement, upon notice to the individual or corporate entity name that appears on the Membership account of record ("you" or "your"), which may be made by, but is not limited to, email or posting at www.loucity.com and www.racingoufc.com.
Account ownership: You may not assign any of your interest in this Agreement, including your Membership, without the prior written consent of Soccer Holdings, LLC. The name associated with your Membership account may not be changed, except as follows: legal name change, change in marital status or change in business name. All requests for Membership account information changes must be submitted to Soccer Holdings, LLC, in writing.
Your membership is a revocable license: Your Membership includes the Tickets, which, like all tickets sold for events at the Venue, are owned by Soccer Holdings, LLC. Your Membership (and each included Ticket) is a revocable license issued by Soccer Holdings, LLC, to you. Soccer Holdings, LLC, may terminate your Membership at any time upon written notification to you for any reason and, other than in the event of your breach of this Agreement, in such event, Soccer Holdings, LLC, will refund any pro rata portion of your Membership dues as of the date of such termination. Any breach by you of this Agreement shall entitle Soccer Holdings, LLC, to all available legal remedies, including, but not limited to, revocation or cancellation of your Membership, with no further compensation or refund. Upon such cancellation or provocation by Soccer Holdings, LLC, you shall forfeit all rights to purchase Playoff Tickets.
All sales are final: No refunds or exchanges. Payments must be made on or before the agreed-upon payment plan dates. The Tickets shall be delivered to you electronically before the first match of the United Soccer League or National Women's Soccer League season (these are the leagues — "Leagues" — that Soccer Holdings, LLC, participates in and holds valid), but only if your Soccer Holdings, LLC, account is in good standing, otherwise the Tickets will not be delivered to you until you have paid your Membership dues in full. If you are on an installment payment plan and you fail to make any such payments when due, Soccer Holdings, LLC, may, in its sole discretion, either (i) withhold the Tickets from you for upcoming events until full payment is made and your Membership account is in good standing; or (ii) terminate your Membership, with any payments made by you prior to the termination date forfeited by you. If the amount that you pay for a Right is obviously incorrect, regardless of whether in error in a price posted on this website or otherwise communicated to you, or you are able to order Rights before their scheduled on-sale date, then we reserve the right, at our sole discretion, to cancel your order and refund to you the amount that you paid. This policy will apply regardless of how the error occurred. In the event of cancellation of this Event, Club shall not be required to issue a refund provided that Holder is given the right, within twelve months of the date of the original Event, to attend a rescheduled performance of the same Event or to exchange this ticket for a comparable ticket to another similar event as designed by Club.
Playoffs: The cost of playoff Tickets is incremental to your annual Membership dues. Full-season members automatically retain their seats for all home playoff games, half-season members automatically retain their seats for such games that are assigned to their particular half-season membership grouping, and full-season members in good standing will be charged for playoff tickets for games before completion of each playoff round through the same payment method selected for their membership dues. Upon receipt of playoff ticket pricing information, which will be delivered by Soccer Holdings, LLC, prior to the end of the USL/NWSL regular season, such full-season members may provide written notice of their election to decline playoff tickets by the stated deadline date, incur no charges, and no change to their membership status. Non-full-season members are not guaranteed playoff tickets but will be provided with presale priority based on availability. Members who opt-out or otherwise do not re-enroll their membership for the following season, prior to the playoffs, and would otherwise be eligible to receive the option to purchase playoff tickets, will receive the option to purchase playoff tickets, but will not receive member pricing and must pay for all potential playoff games in advance.
Restrictions: You may not transmit, distribute, or sell (or aid in transmitting, distributing, or selling), in any media now or hereafter existing, any description, account (whether text, data, or visual), picture, video, audio, or other forms of exploitation or reproduction of any USL/NWSL match or surrounding activities (in whole or in part) for which the Tickets are issued to you. The Tickets may not be used by you for any form of commercial or trade purposes, including, but not limited to, the sale by you of all or substantially all the Tickets for the USL/NWSL season (including via SeatGeek) for non-personal, business use (whether or not for profit), or for advertising, promotions, or contests or sweepstakes, without the expressed prior written consent of Soccer Holdings, LLC, and the USL/NWSL.
Assumption of risk/release of liability: Member voluntarily assumes all risks and danger of personal injury including death, ball strikes and all other hazards arising from or related in any way to this Live Event, whether occurring prior to, during or after the Event. Member releases Venue, Club, Event promoter, USL, NWSL or another league, and their respective affiliates, owners, and representatives from any claims related to the Event.
Fan behavior: If you behave in an unruly or disruptive manner, including, but not limited to, foul language, intoxication, destruction (or attempted destruction) of Venue property, or physical or verbal abuse of other fans, Venue employees, game officials, players, or coaches during, before, or after a game, you may be asked to leave and/or be ejected from the Venue. You are responsible for such behavior by anyone using the Tickets. In the event of such behavior, Soccer Holdings, LLC, may, in its sole discretion, terminate your Membership without refund or other compensation. Venue reserves the right to revoke and/or eject Holder without a refund for any violation of Venue, Club, or Event rules, disorderly conduct, or resale or attempted resale of Ticket.
Search upon venue entry: You and your belongings may be searched upon entry into the Venue, and you consent to such searches and hereby waive any related claims that might arise against Soccer Holdings, LLC, or the USL and NWSL. If you elect not to consent to these searches, you will be denied entry into the Venue. This policy applies to other users of the Tickets, who also hereby waive any related claims that might arise against Soccer Holdings, LLC, or the USL and NWSL.
Use of image: You (and other users of the Tickets) hereby grant permission to Soccer Holdings, LLC, and the USL and NWSL (and their respective designees and agents) to use you/their image, likeness, actions, and statements in any live or recorded audio, video, film or photographic display or other transmission, exhibition, publication or reproduction made of or at the game in any medium, whether now known or hereafter created, or context for any purpose, including commercial or promotional purposes, without further authorization or compensation.
Disclaimer: Please be advised that with each home team goal a coordinated music & light show will follow. It does contain bright, flashing lights that may cause discomfort and/or seizures for those with photosensitive epilepsy. For those with noise sensitivity, sensory bags are available at Guest Services outside section 115 for our guests' sensory needs.
Weather: In the event of severe weather in the vicinity of Lynn Family Stadium, fans should listen for public address announcements, keep an eye on the video board and follow the club on social media to receive any pertinent updates. Should fans be advised to exit the stadium for shelter due to conditions, re-entry will be allowed once the game is scheduled to resume. Upon a resumption of play, games will restart from where they stopped, preceded by a warmup period. If a game is postponed to a later date, tickets and parking passes from the original date will be honored. Generally, soccer games go on through rain unless conditions make playing impractical or dangerous.
Recurring Payment Authorization
I understand that by signing this Recurring Payment Authorization, which, collectively with the Ticket Services Terms and Conditions and Soccer Holdings, LLC, Terms and Conditions on the following page hereto, shall constitute your Membership Agreement (this "Agreement") I (a) authorize Soccer Holdings, LLC, to charge my credit/debit card (or withdraw from my bank account via Electric Funds Transfer, if so selected by me) I provide to my Soccer Holdings, LLC ticket representative for my annual Membership (as defined below) dues for the ticket(s) associated with my Membership account, which collectively with any playoff tickets I purchase under this Agreement are referred to herein as the "Tickets"; and (b) agree to the terms and conditions of this Agreement. I understand that my initial and subsequent installment charges will be made to such an authorized card/account in association with my chosen payment plan until such annual dues are paid in full. I acknowledge and agree that my Soccer Holdings, LLC, Membership ("Membership") will automatically renew in September of each successive year, unless either I or Soccer Holdings, LLC, provide written notice of cancellation, for any reason or no reason, to the other prior to the start of the new Membership year, which begins September 1 and ends on August 31 (each, a "Membership Year"); provided, however, that notwithstanding the foregoing, I further understand and agree that I may not cancel my Membership during Member Year 1 (as identified above). I understand that, upon the expiration of Membership Year 1, my Membership may be canceled by me at any time throughout a Membership Year for any reason or no reason, provided I notify Soccer Holdings, LLC, in writing of my intent to cancel by either (I) U.S. Mail postage prepaid or certified mail return receipt requested; (ii) UPS, FedEx, or other reputable delivery services; (iii) in-person at Lynn Family Stadium, 350 Adams Street, Louisville, KY, 40206 (the "Venue"); or (iv) completion of an opt-out form provided each Membership Year. Upon such cancellation, I will no longer be responsible for any future payments, but shall not be entitled to any refund for payments made prior to such cancellation. The remaining funds on my account may be applied to the purchase of tickets to mutually agreed to event(s) at the Venue within the applicable Membership Year, subject to availability, and any remaining unused funds thereafter will be available for future seasons. For all Membership payments, this recurring payment authorization shall remain in effect for so long as my Membership remains in effect. I hereby warrant that I have the authority to charge the credit/debit card (or withdraw from the bank account) I provide to my Soccer Holdings, LLC, ticket representative to the listed account to pay my annual Membership dues. I understand and agree that Soccer Holdings, LLC, are not liable in any way for erroneous billing statements or incorrect charges and that should such an error occur in billing, Soccer Holdings, LLC's only responsibility is to correct it when and if Soccer Holdings, LLC, receives notice of the error. There will be no other refunds of any kind for such charges. I understand that Soccer Holdings, LLC, may, in its sole discretion, upon written notice to me, modify my payment plan; including prices for future seasons, and/or terminate my participation as a Louisville City and/or Racing Louisville FC Member. Soccer Holdings, LLC, may restrict entry to Louisville City and/or Racing Louisville FC matches and Member events and/or revoke Membership privileges if scheduled payments are not timely paid and/or if any authorized charge is refused by my credit card company or banking institution for any reason. I realize that if any credit/debit card or bank account number(s) provided at the time of enrollment change, I will promptly notify Soccer Holdings, LLC, and this authorization will remain in effect for such new card/account number(s). Under all payment plans, all payments are due on the dates specified regardless of game cancellations or rescheduling. Soccer Holdings, LLC, may charge a processing fee in the event a charge is refused for any reason.
---
INTERESTED IN BECOMING A SEASON TICKET MEMBER?
Season Tickets are available now at racingloufc.com/tickets.
Call (502) 568-2489, Option 2 for more details.