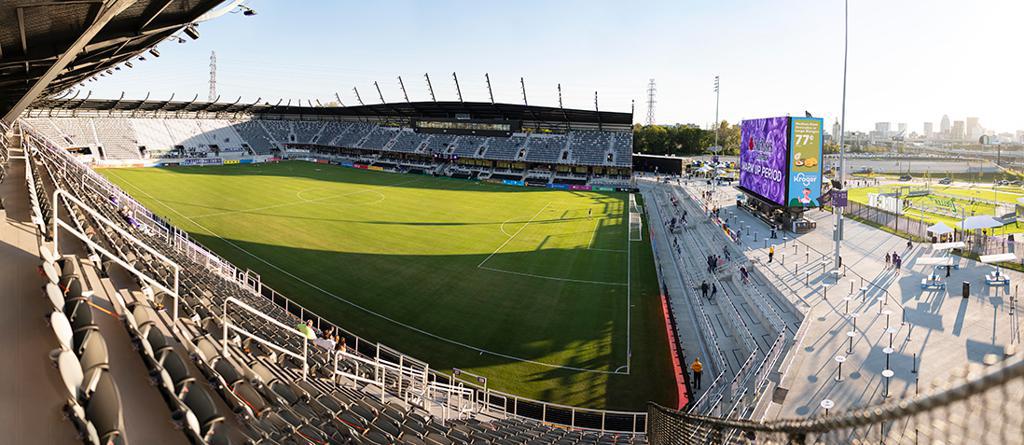 Our team is dedicated to building a custom group outing for 10 or more persons that is unique, fun and memorable. In addition to coordinating an outing at a Racing Louisville FC game, we can help you decide which of our many exclusive experiences will work best for your group.
Our team can think outside of the pitch to customize a group outing such as behind-the-scenes tour of Lynn Family Stadium, yoga at the facility or even a private happy hour before a game. All events and group outings are built specifically to fit your needs and budget.
• Click here to read a list of commonly asked group event questions.
Interested in learning more about group options? Purchase directly below, or fill out our questionnaire to hear from a ticket representative about a customized experience.
---
Group FAQs
What discounts are offered for LouCity and Racing tickets?
Group pricing of 10+ starts at $16 per person for standing room and $20 per person for seated tickets. Pricing varies depending on ticket availability and seat location for each game. 
How can I get the best group seats?
Ticket orders are filled based on availability. Group tickets are sold on a first-come, first-served basis.
Can I request specific seats?
There are various sections designated for groups throughout the stadium. There is flexibility on seat requests and will be offered depending on availability.
Is there event space available outside of experiencing a live match?
Various indoor and outdoor event options are available throughout Lynn Family Stadium to accommodate various needs, sizes, and budgets. Spaces include but are not limited to the Beer Garden, Modelo Bar and Fifth Third Club. Additional fees may apply for event space reservations.
How will I receive my tickets?
Tickets are digital and will be received through the SeatGeek app. On special occasions or depending on the group size, tickets may also be printed out and delivered to the group leader to disperse.
Are there any additional fees when purchasing group tickets?
There are no additional fees if you call in requesting group tickets. Fees may apply if you purchase group tickets via a link.
Can I cancel my group/can I get a refund?
There are no refunds on group tickets, except for canceled events via the Club, but you can request a ticket exchange and we will work with you to reschedule your group outing for a more suitable date and time. A group may request a refund if COVID-19 is a factor for their group.