Season tickets for Racing Louisville FC's 2024 season are on sale now!
Memberships start at $14 apiece for 14 games and come with a variety of benefits that, when combined, total up to 10 times the value of the ticket price. Costs can be paid up front or in convenient monthly installments.
New this year, fans who purchase season tickets for both Racing and Louisville City FC will also save 10% (please note, the discount doesn't apply to speciality seating areas including club, rail, ledge and loge boxes)
Why become a season ticket member? In addition to pricing that equates to significant savings over individual game tickets, all STMs receive an exclusive complimentary scarf and discount on team gear, plus first access to parking and the opportunity to get tickets to playoff and exhibition matches.
The club continues to build out exclusive STM access to events such as behind-the-scenes visits to training, coach/player Q&As and film studies. Additionally, we've engaged a number corporate partners to offer discounts to season ticket members by simply showing your STM card through the SeatGeek app!
Email tickets@racingloufc.com or call (502) 568-2489 during regular business hours to reach our team with any questions.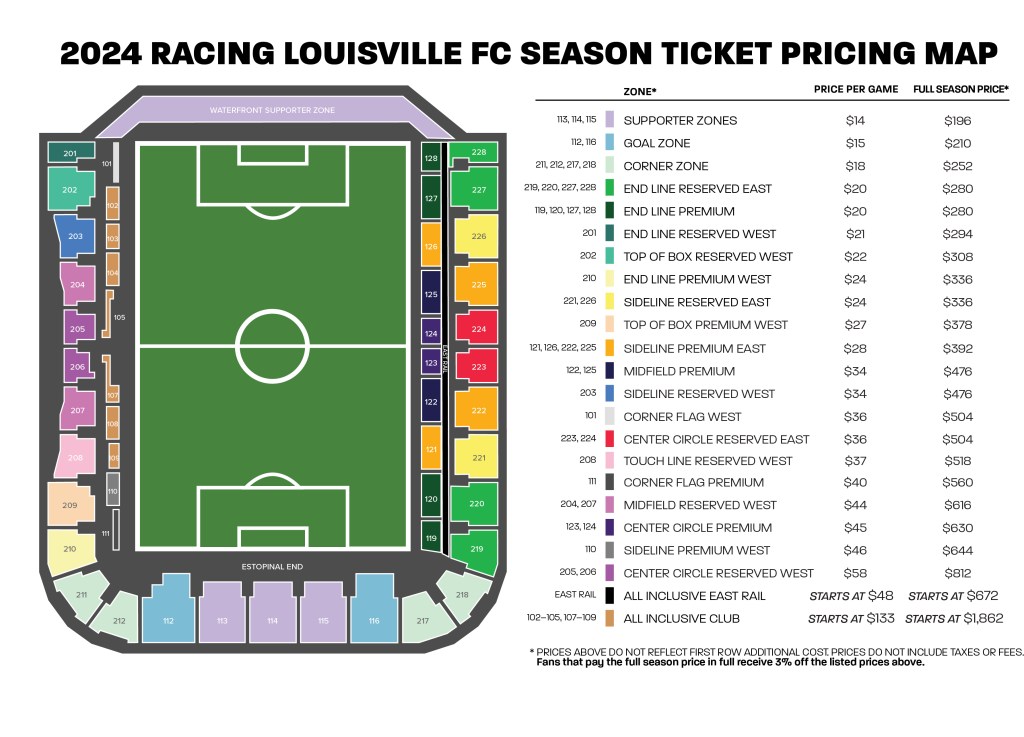 As a Racing season ticket member, you receive…
• Significant savings over purchasing individual game tickets
• Exclusive season ticket member scarf
• Online and in-store discounts to our team store
• Access to exclusive season ticket member events
• Savings when purchasing from club partners such as Heine Brothers
• First opportunity to purchase tickets to playoff and exhibition matches, and additional tickets to regular season matches
• Presale access to non-soccer events at Lynn Family Stadium
• A group credit toward tickets equaling 5% of the cost of your season ticket membership, less taxes and fees.
• Ability to trade out tickets for games you can't make for additional tickets to another game of your choice.
• A lower per-game loyalty rate for returning season ticket members
• Four "anytime" tickets in the Estopinal End to be used throughout the course of the season.
• Email notification to access exclusive stadium secret menu items and experiences
• Season ticket member identification card via the SeatGeek app