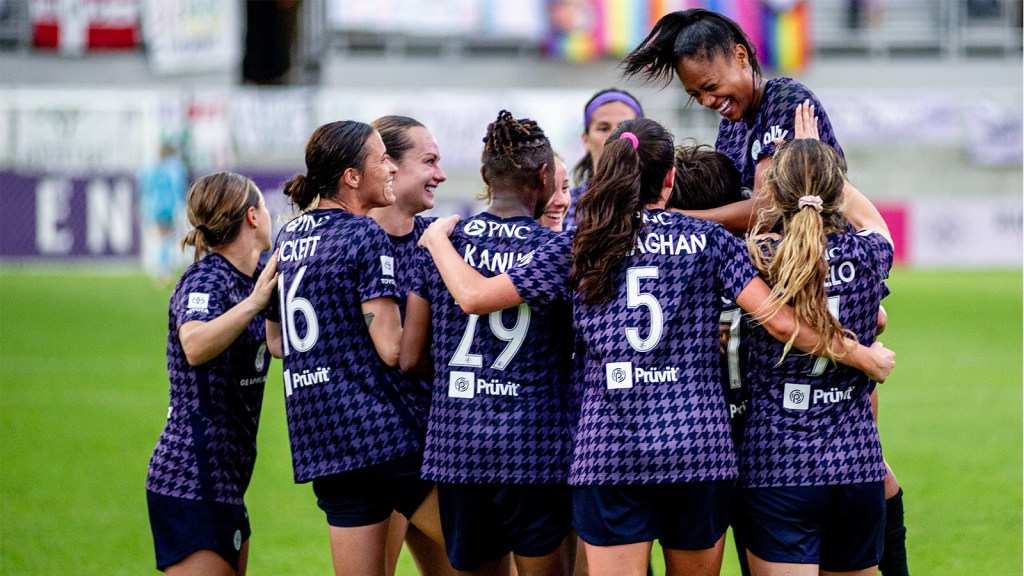 Racing Louisville's hunt for a breakthrough win ended Friday night, with the Louisvillians celebrating an emphatic 3-0 victory over the visiting Chicago Red Stars at Lynn Family Stadium.
Savannah DeMelo and Wang Shuang converted penalties in the first half and Parker Goins provided an insurance goal in the 89th minute to give Racing its first win of the 2023 campaign and its largest margin of victory at home since joining the NWSL in 2021.
"We've been up, we've been down, tied a lot of games – now we finally did it," said defender Carson Pickett. "That was the belief we need. We needed those three points to give us belief for the next games. We just needed to get over that hump of finishing games strong."
Racing (1-2-4, 7 points) arrived at Friday's match hungry for a win after twice taking 2-0 leads in first halves of games earlier this year – only to concede two second-half goals and settle for draws. The third time it happened was the charm.
In the 35th minute, DeMelo's penalty banged off the post, but it bounced into the goal off the back of Chicago goalkeeper and U.S. Women's National Team star Alyssa Naeher for an own goal.
Five minutes into added time in the first half, Wang Shuang slotted home a second penalty, scoring her first regular-season goal for Racing and becoming the first Chinese player to score in NWSL history.
This time, Louisville made sure to keep its foot on the gas pedal with the 2-0 halftime lead, repeatedly pushing for goal No. 3 in the second half. Wang Shuang rattled the crossbar from 16 yards out and Paige Monaghan's free header off a set piece required a goal-line stop from Naeher.
In the game's waning moments, Goins scored her first professional goal, collecting a loose ball off teammate Thembi Kgatlana's dribble and knocking her shot in off the far post.
Racing put 11 shots on target and hit the woodwork twice, forcing Naeher into nine saves. Louisville created five big scoring chances, per Opta stats. It was another impressive offensive performance, and this time, DeMelo said, it was "a team win."
"Every player performed today," DeMelo said. "Everyone contributed today. That's the difference. That's what we're going to need going forward."
The emotion of the win showed through at the final whistle. Pickett sprinted to captain Jaelin Howell, who pumped her fists. The team sprayed each other with water in the post-match group talk.
For a team hoping to contend for the playoffs, Racing desperately needed the victory, which moved Louisville up three spots in the NWSL standings, albeit with one more game played than the three teams just behind.
"We want to be a top-six team that can fight for the final in the end," Racing coach Kim Björkegren said. "You have to start to win. We can't just talk about good performances. A super important three points."
Game Summary: Racing Louisville FC vs. Chicago Red Stars
Date: May 12, 2023
Venue: Lynn Family Stadium
Kickoff: 7:30 p.m. ET
Weather: 72 degrees, cloudy
Attendance: 4,143
Player of the Match: Wang Shuang
Scoring
Racing Louisville (2, 1, 3)
Chicago Red Stars (0, 0, 0)
Goals
Racing Louisville
35' Alyssa Naeher own goal
45'+5 Wang Shuang (penalty)
89' Parker Goins
Lineups
Racing Louisville FC (4-3-3): 1 – Katie Lund; 16 – Carson Pickett, 20 – Abby Erceg, 15 – Julia Lester (73' 4 – Elli Pikkujämsä), 2 – Lauren Milliet; 6 – Jaelin Howell (c), 7 – Savannah DeMelo (88' 19 – Jordan Baggett), 8 – Ary Borges; 5 – Paige Monaghan (81' 11 – Thembi Kgatlana), 29 – Uchenna Kanu (73' 21 – Parker Goins), 77 – Wang Shuang (81' 27 – Alex Chidiac)
Subs not used: 99 – Olivia Sekany; 3 – Zaneta Wyne, 9 – Kayla Fischer, 25 – Rebecca Holloway
Head Coach: Kim Björkegren
Chicago Red Stars (3-4-3): Alyssa Naeher (c); 6 – Casey Krueger, 12 – Tierna Davison, 23 – Tatumn Milazzo; 22 – Bianca St-Georges (46' 24 – Jenna Bike), 3 – Arin Wright (57' 14 – Jill Aguilera); 4 – Cari Roccaro, 7 – Yuki Nagasato; 8 – Ella Stevens (63' 34 – Ally Schlegel), 55 – Penelope Hocking, 5 – Julia Bianchi (46' 18 – Sandra Starke)
Subs not used: 21 – Emily Boyd; 2 – Sam Fisher, 16 – Sophie Jones, 25 – Ava Cook, 31 – Amanada Kowalski
Stats Summary: Racing Louisville / Chicago Red Stars
Shots: 16 / 12
Shots on Goal: 11 / 4
Expected goals: 2.65 / 0.74
Possession: 43.4% / 56.6%
Fouls: 14 / 16
Offside: 3 / 4
Corner Kicks: 6 / 7
Discipline Summary
Racing Louisville:
53' Abby Erceg (yellow)
90' Jaelin Howell (yellow)
Chicago Red Stars
6' 5 – Julia Bianchi (yellow)
28' 22 – Bianca St-Georges (yellow)
Referee: Alyssa Nichols
VAR: Jose Carlos Rivero