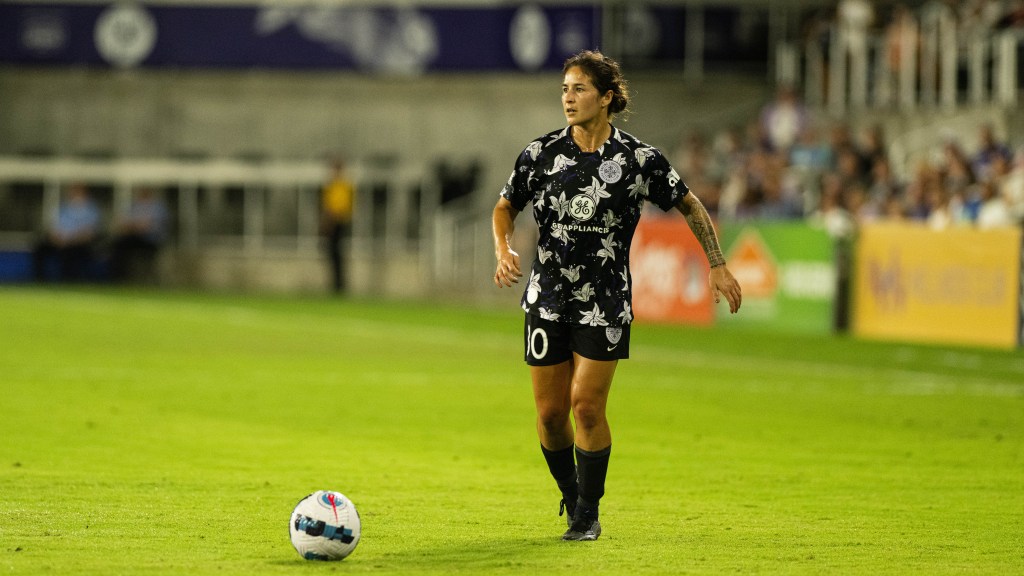 Racing Louisville FC hosts the Washington Spirit at 8 p.m. Friday in the Spirit's first trip back to Louisville since winning the 2021 NWSL Championship at Lynn Family Stadium. But this year hasn't exactly served as a victory tour.
With a 1-5-8 record (11 points), Washington is winless since its May 1 opener. The streak includes these clubs' only prior meeting, a June 17 draw in which Racing Louisville's Jess McDonald assisted a pair of Nadia Nadim goals off the bench for a rallying 2-2 result.
Racing enters the weekend also desperate for a win, going since May 22 without claiming a full three points. Louisville's record stands at 2-6-6 (12 points).
The Spirit's misfortunes are a bit of a mystery. The club stars a number of influential U.S. Women's National Team players that just helped the Americans win the Concacaf W Championship, qualifying both for the 2023 World Cup and 2024 Olympics.
Seven Washington players — among them last season's Rookie of the Year, Trinity Rodman, and more mainstay national teamers such as Kelley O'Hara, Emily Sonnett and Andi Sullivan — were all part of the last USWNT roster.
Eight regular season games remain with Racing and Washington seven and eight points, respectively, off a top-six playoff position in the league standings.
Follow along…
• For Starting XI and in-game updates, follow @RacingLouFC on Twitter and Racing Louisville FC on Facebook. Also find us at @racinglouisvillefc on Instagram.
• The game will stream live on Paramount+ in the United States and on Twitch internationally.
Player availability report
Story lines...
Plenty to play for: Coach Kim Björkegren wasn't ready to concede a playoff spot following Tuesday's draw with OL Reign, saying, "We can just do our best and then let's see if we're going to make the top six." Racing does have a chance to claw back with games remaining against teams just ahead: KC Current (sixth), Angel City (seventh) and Orlando Pride (eighth).
Close calls: While Racing matched last year's season-long winless streak at nine games, the club has taken a point away from four of its last six contests. Only one of five defeats over this span were decided by more than a goal.
Congested schedule: Friday's game will mark Racing's third match in eight days exiting the NWSL's break near the end of July. Games keep coming in quick succession through August, seeing Racing play seven games in 30 days dating back to July 29. That includes The Women's Cup, to be played Aug. 14-20. Those games will not count toward the regular season.
Lund-believable: Goalkeeper Katie Lund set a tone Tuesday by making a double save just seconds after kickoff against OL Reign. She went on to tally 12 stops in all, tying the NWSL's single-game regular season record to keep Racing level in a game where Reign numbered 25 shots — 20 of them in the box. Lund's 63 saves lead the NWSL.
Davis from deep: OL Reign scored off a second-minute corner kick and dominated the game's opening stages. Seemingly out of nothing, however, a counter panned out when forward Kirsten Davis struck a liner off her left foot from distance. Davis, a rookie out of Texas Tech who also scored in the NWSL Challenge Cup, made this her first regular season goal.
All over the place: That Racing lists Lauren Milliet as a midfielder sells her a bit short. Last Friday, she lined up at outside back against Portland Thorns FC. On Tuesday, she started on the wing. Given her versatility, Milliet is the only player to appear in each of Racing's NWSL games since the club launched.
Rising star: The beat goes on for midfielder Savannah DeMelo. The rookie out of Southern California has already tallied three goals — two on free kicks — along with an assist. She also went into August leading the NWSL in crosses (100) and fouls won (45), a trend that could very well continue. DeMelo won a game-high five fouls in the midweek draw with OL Reign and tried three crosses.
Establishing themselves: A number of players signed during the current NWSL transfer window are carving out their roles. Two games back, Alex Chidiac toe-poked in her first goal since moving from Australia and Satara Murray made her debut in central defense. Defender Rebecca Holloway also subbed on Tuesday to mark her first appearance since representing Northern Ireland in the recent UEFA Women's Euro 2022.