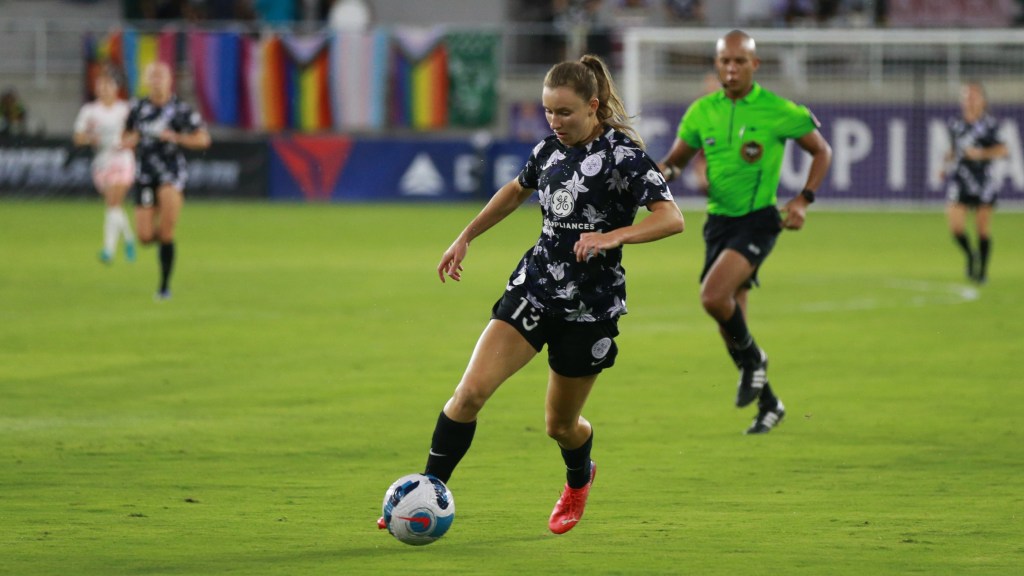 Racing Louisville FC returns to action at 8 p.m. Friday when it hosts second-place Portland Thorns FC at Lynn Family Stadium.
Racing (2-5-5, 11 points) entered the league-mandated July break in 10th place in the NWSL, six points from the final playoff spot. The team is on a six-match winless streak, though it enters Friday's game off a hard-earned draw at league-leading San Diego on July 15. Spectacular goalkeeping prevented both teams from finding the back of the net. 
Portland (5-1-6, 22 points) dominated NJ/NY Gotham FC, 5-0, in its final match before the break, with different players scoring. Portland is one point behind San Diego in the standings, but the Thorns have played one fewer game. 
In the two previous meetings between the teams – both last year – Portland held Racing scoreless, winning 3-0 and 2-0. The Thorns are the only NWSL team Racing hasn't scored against in any competition.
Racing will have its full roster back for Friday's match after four players – Emily Fox (U.S.), Rebecca Holloway (Northern Ireland), Satara Murray (Jamaica) and Nadia Nadim (Denmark) – spent much of July at international tournaments with their national teams. Nadim is tied for the team lead with three goals, while Fox has emerged as one of the best fullbacks in the world.
Portland will also have a number of its stars back from international duty, including U.S. captain Becky Sauerbrunn and star forward Sophia Smith, along with Canadian standouts Christine Sinclair and Janine Beckie.
Friday's match marks the start of a busy month for Louisville. The club will play six games in 30 days, including three at home in the next week. 
Follow along…
• For Starting XI and in-game updates, follow @RacingLouFC on Twitter and Racing Louisville FC on Facebook. Also find us at @racinglouisvillefc on Instagram.
• The game will stream live on Paramount+ in the United States and on Twitch internationally.
Player availability report
Story lines...
DeMelo's dominance: Midfielder Savannah DeMelo has proven to be one of the top rookies – and players overall – in her first year in the league. The Southern California graduate leads the NWSL in chances created (29), tackles won (25) and fouls won (48), and she is the only player in the league to score from a direct free kick in regular-season play, having done it twice.
Career-high Katie: Goalkeeper Katie Lund made eight saves at San Diego en route to the Racing's third shutout of the season. The Plano, Texas, native is one clean sheet away from matching the total number of shutouts earned in Racing's 2021 campaign.

Nadim sees former club: Friday will mark the first time Nadia Nadim will play against Portland since returning to the NWSL last summer with Racing. The forward led the Thorns in scoring in its 2016 NWSL Shield run and was a member of its 2017 NWSL championship team. 
Friends face off: On Friday, rookie midfielder Jaelin Howell will match up against her childhood friend, Portland's Sophia Smith, for the first time as professionals. The two grew up playing together in Colorado and in the U.S. youth national team system. The duo also received its first senior national team call ups and caps together in the fall of 2020. 
Back from international duty: While away for most of July, defender Emily Fox (U.S.) helped her nation win the Concacaf W Championship, qualifying for the 2023 World Cup and 2024 Olympics. Jamaica defender Satara Murray helped her team finish third, earning a spot in the World Cup and a chance to compete via a playoff for the final Concacaf spot in the Olympics. Defender Rebecca Holloway (Northern Ireland) and forward Nadia Nadim (Denmark) both played in UEFA Women's Euro 2022, but their teams were eliminated after the group stage.
Wyne earns a contract: After making two starts as a National Team Replacement Player, defender Zaneta Wyne signed a permanent deal with Racing Louisville through the 2023 season, the club announced on Wednesday. Wyne came to Louisville from West Ham United, where she helped the Hammers finish sixth in England's top-flight league.
Other moves: Racing announced other roster moves on Wednesday, including the departures of midfielder Taylor Otto and forward Sh'Nia Gordon as they pursue playing time In Europe, well as National Team Replacement Players Hannah Adler, Isabella Beletic and Allison Whitfield.