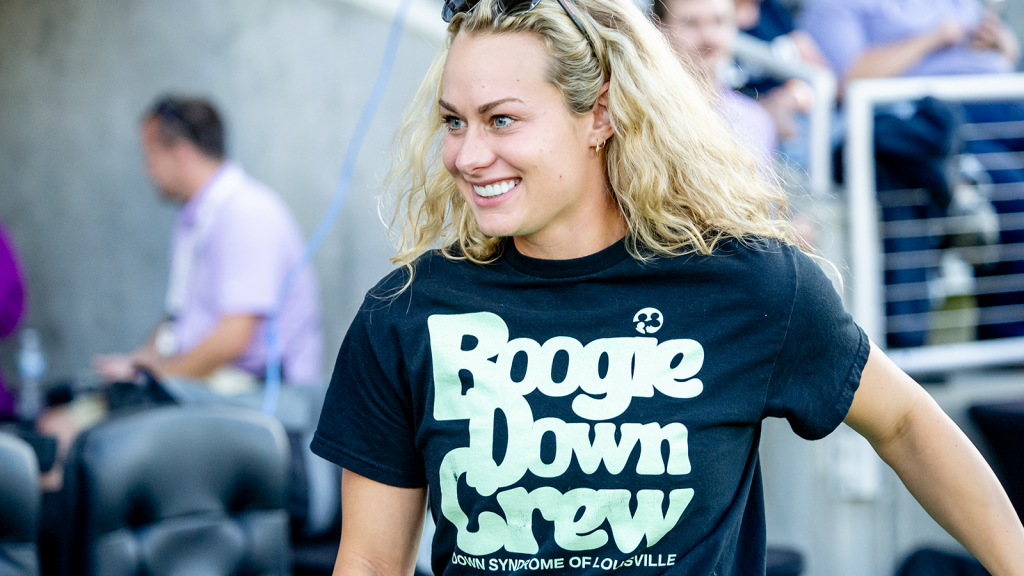 Racing Louisville team captain Jaelin Howell won the prestigious 2023 Nationwide Community Impact Award for her work with Down Syndrome of Louisville, the National Women's Soccer League announced Saturday evening.
Given to one team-community partnership for exemplary commitment off the field to a local service project, the award comes with a $25,000 donation from Nationwide and recognition at halftime of the NWSL Championship game Saturday night in San Diego.
"It's such an honor and a blessing to receive the Nationwide Community Impact Award for Down Syndrome of Louisville," Howell said. "Thank you to Racing and our wonderful Louisville community for your constant support. It's always amazing to see when communities can come together and change people's lives through sport. Thank you to Nationwide for providing this platform and opportunity. I'm so proud of all the other community ambassadors in the NWSL and their work to create positive change. We hope this is just the beginning in our partnership with DSL!"
"When Jaelin shared that she wanted to get involved with Down Syndrome of Louisville, I was so excited to put the club's support behind her," said Stephanie Burdorf, the community engagement coordinator for Racing Louisville FC. "What I didn't know then was how contagious and steadfast her passion is, and it quickly spread to me, her Racing teammates and our fans as we introduced the amazing work DSL does into our game day experience and community efforts. Jaelin has led the charge in creating a beautiful partnership with DSL, and we are so proud of her for winning this award."
The Nationwide Community Impact Award is part of a season-long initiative to promote community efforts led by each NWSL team and a player ambassador. At the end of the year, votes from fans and a panel of judges that included representatives from the NWSL, NWSLPA, Nationwide and NWSL Media Association determine the winner of the contest.
The 23-year-old initiated her relationship with Down Syndrome of Louisville in March, months before Racing nominated her as the club's Nationwide Community Impact Award ambassador. Influenced by a close relationship with a family friend with Down syndrome, Howell determined she'd like to work with Down Syndrome of Louisville – the only gold-accredited Down syndrome organization in the United States – to advocate for inclusion and friendship and foster new relationships between DSL families and friends and Louisville's top-tier professional soccer team.
DSL is a 501(c)(3) nonprofit. The organization earned a prestigious Gold Certificate of Accreditation from Down Syndrome Affiliates in Action in 2016, becoming the only Down syndrome association in the country to receive the accreditation. DSL says its mission is "to support, educate and advocate for individuals with Down syndrome, thus enabling them to reach their full potential."
This year, Howell hosted the inaugural Racing BFF Dance, a summertime mixer and pseudo-prom for the DSL and Racing community, as well as the Rock Your Socks Soccer Clinic in September.
As part of the service project, Racing Louisville staff, players and fans donated the top three items DSL uses the most at its facility – markers, disposable cutlery and disinfecting wipes – collecting more than 400 total items. Howell's Racing Louisville BFF team in the 2023 Kindness Warrior Walk raised $5,339.96 toward the walk's overall fundraising total of more than $300,000.
Racing also sponsored the Boogie Down Crew, an 11-and-up dance team that performs more than 30 times a year at DSL and community events, and held Kindness Warrior Training sessions for players and staffers. Louisville's Sept. 15 match against the Houston Dash was Nationwide/DSL Appreciation Night at Lynn Family Stadium, while Racing recognized an honorary captain from DSL at a series of home games through the season.
On the soccer field, Howell is one of the league's top young players, a feared defensive midfielder who just completed her second standout season in the NWSL. The No. 2 overall pick in the 2022 NWSL Draft, Howell has appeared in 38 matches for Racing, notching two assists and twice ranking in the league's top 10 in blocks, interceptions and tackles won.
The Colorado native has made five appearances for the U.S. Women's National Team and is one of only five players in NCAA Division I soccer history to win back-to-back national player of the year awards.