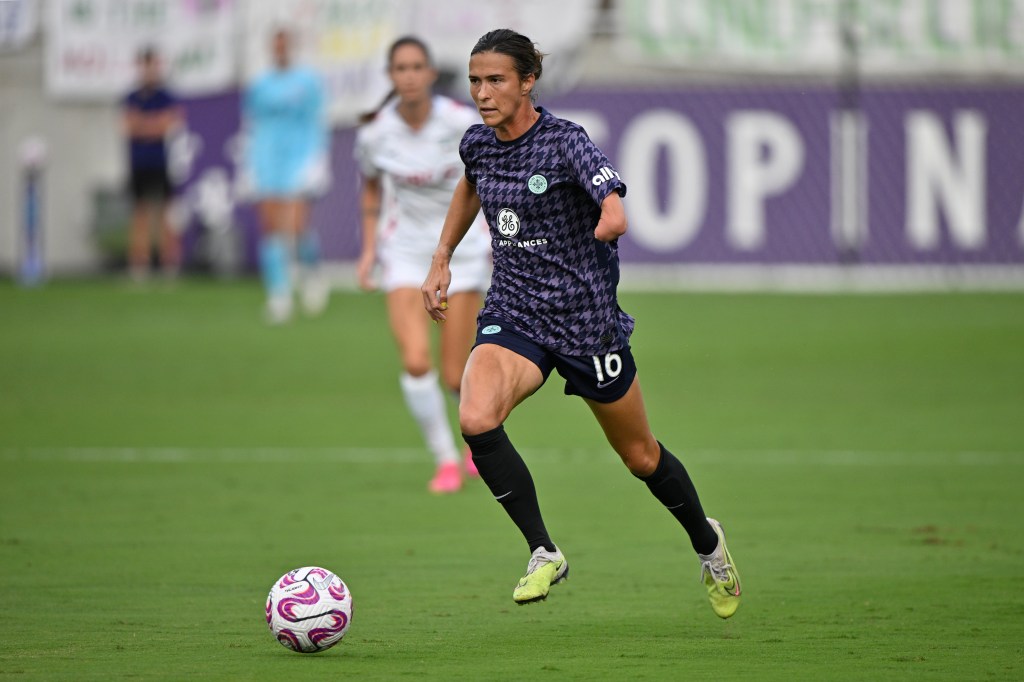 Continuing her fast rise within the Racing Louisville ranks, Maddie Pokorny is set to make her first start in lavender when Racing hosts the Houston Dash at 7:30 p.m. at Lynn Family Stadium.
Pokorny, who has already made nine appearances as a substitute across all competitions, joined the team in late June on a temporary National Team Replacement Player contract. She signed a permanent deal through the rest of the season after a run of impressive performances.
Now the 26-year-old from St. Louis gets her first start in place of injured left back Rebecca Holloway and returning-from-injury regular starter Carson Pickett. The 30-year-old Pickett, celebrating her birthday today, is also back on the substitutes bench after missing the past month with a calf injury.
Pokorny and Nadia Nadim are the two additions to coach Kim Björkegren's starting lineup from the last time out in the UKG NWSL Challenge Cup final. Returning to regular-season league play, seventh-place Racing (5-4-9, 24 points) is two points out of the NWSL playoff picture with four games to go. A win over Houston would move Louisville into playoff position.
The rest of the XI should look familiar to Racing fans. Abby Erceg will once again wear the captain's arm band in Jaelin Howell's place. The New Zealander is having a standout year in central defense, and she'll anchor a back four that includes Pokorny, Julia Lester and Lauren Milliet.
Both Erceg and Milliet are closing in on iron-woman seasons for Racing, having played every minute of every match. The same goes for goalkeeper Katie Lund, who has started and played every game this year across all competitions. The 26-year-old Texan is the NWSL leader in saves, with 71, and second in shutouts (six).
In the midfield, Elli Pikkujämsä slots into the holding position in Howell's absence. Ary Borges and Savannah DeMelo team up ahead of Pikkujämsä as DeMelo tries to keep pace in the NWSL's goals-plus-assists race. She is tied for seventh with five goals and two assists in regular-season play. Her next assist and next goal will both set new club records – the Californian is tied with Nadim with nine goals in a Racing jersey, and she has four career assists.
Up front, Nadim leads the line alongside Kirsten Davis and Thembi Kgatlana. This will be Nadim's second start since returning from a knee injury.
Racing listed several players as out through injury ahead of Friday's matchup: Holloway, Howell, Jordan Baggett, Jordyn Bloomer and Uchenna Kanu. Jess McDonald is on maternity leave and Wang Shuang is on international duty with China.
Racing Louisville Team Sheet vs. Houston Dash
1 – Katie Lund
2 – Lauren Milliet
15 – Julia Lester
20 – Abby Erceg (c)
17 – Maddie Pokorny
4 – Elli Pikkujämsä
7 – Savannah DeMelo
8 – Ary Borges
22 – Kirsten Davis
10 – Nadia Nadim
11 – Thembi Kgatlana
Substitutes: 18 – Hillary Beall, 99 – Olivia Sekany; 3 – Zaneta Wyne, 5 – Paige Monaghan, 9 – Kayla Fischer, 13 – Emina Ekic, 16 – Carson Pickett, 21 – Parker Goins, 26 – Taylor Aylmer