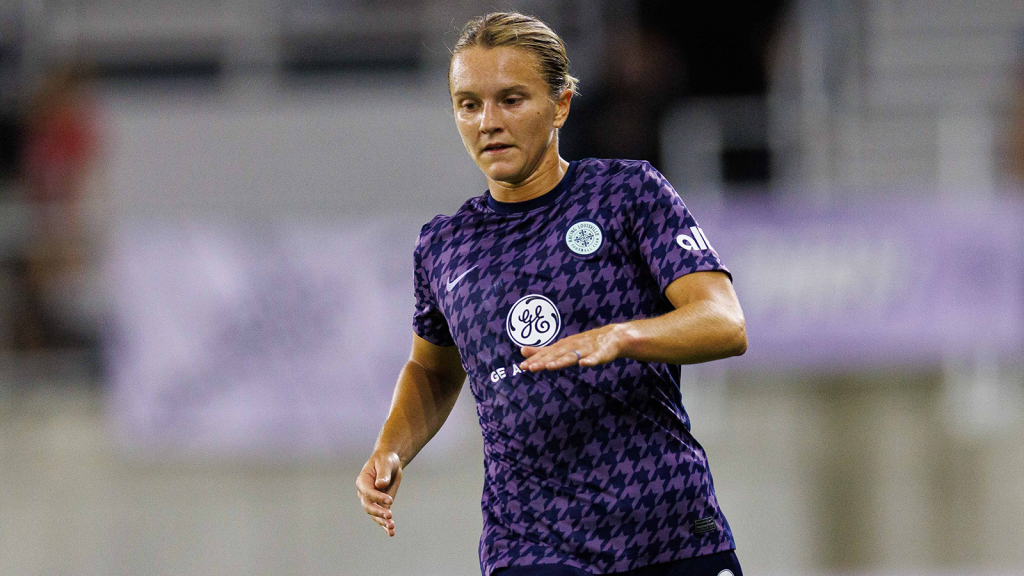 Racing Louisville FC fell to the Houston Dash, 1-0, Friday night at Lynn Family Stadium to begin the final stretch of the 2023 NWSL regular season.
The match – primarily characterized by long spells of defending by both sides – was ultimately decided by Dash forward Diana Ordóñez's header over Racing keeper Katie Lund in the 54th minute, assisted by Maria Sanchez.
Racing's biggest scoring chances came from an effort by midfielder Savannah DeMelo in the 11th minute that went wide past Houston keeper Jane Campbell's outstretched gloves before being whistled offside, and defender Abby Erceg chipped a ball in the 78th minute to release Carson Pickett on goal with Pickett's shot blocked by a Houston defender.
"Overall I'm disappointed, disappointed with the result and also I think we can do better – even if I think we created enough chances to score maybe one or two goals," said head coach Kim Björkegren. "We talked about how nine points will probably be enough to make the playoffs, and with three games left we can still do it. Right now, I'm just disappointed because I think we had a great chance to do something better today but we didn't."
Louisville's Maddie Pokorny made her first start for Racing at left back, for the first hour of play until Pickett returned to the pitch for her first appearance since August 19, where she was subbed off at half against Angel City FC. 
Friday's game was evenly matched on the stat sheet as well, with the Dash registering 19 shots and 5 on goal to Racing's 17 shots with 6 on goal. Both Houston's Campbell and Louisville's Lund accounted for four saves on the evening.
"We have to win every single game, especially for this playoff push. We need all the points we can. It's so tight. Dropping points like that, that's a massive loss for us," said Erceg. "We know we're a better team, we just didn't turn up. It's really, really disappointing."
Racing remains in contention for a club-first NWSL playoff berth. With each team having at least three games left to play, no club can clinch or be eliminated this weekend.
"We still have three more games to go and I think it's going to be very important for us to take one game at a time," said forward Thembi Kgatlana. "We're so close – other teams are playing over the weekend, and we can't depend on other teams. We can depend on our own performance and that's what we can control over the next three games."
Following the international break, Louisville will return to action Saturday, September 30 on the road against the Chicago Red Stars at SeatGeek Stadium.
Game Summary: Racing Louisville FC vs. Houston Dash
Date: Sept. 15, 2023
Venue: Lynn Family Stadium
Kickoff: 7:30 p.m. ET
Weather: 75 degrees, sunny and breezy
Scoring
Racing Louisville (0, 0, 0)
Houston Dash (0, 1, 1)
Goals
Houston:
54' Diana Ordóñez (Maria Sanchez)
Lineups
Racing Louisville FC (4-3-3): 1 – Katie Lund; 17 – Maddie Pokorny (62' 16 – Carson Pickett), 20 – Abby Erceg (c), 15 – Julia Lester, 2 – Lauren Milliet; 4 – Elli Pikkujämsä, 7 – Savannah DeMelo, 8 – Ary Borges; 22 – Kirsten Davis (62' 5 – Paige Monaghan), 10 – Nadia Nadim (79' 21 – Parker Goins), 11 – Thembi Kgatlana (89' 13 – Emina Ekic)
Subs not used: 18 – Hillary Beall, 99 – Olivia Sekany, 3 – Zaneta Wyne, 9 – Kayla Fischer, 26 – Taylor Aylmer
Head Coach: Kim Björkegren
Houston Dash (4-2-3-1): 1 – Jane Campbell; 25 – Kate Lind, 4 – Natalie Jacobs, 13 – Sophie Schmidt (c); 7 – Maria Sanchez (81' 5 – Courtney Petersen), 17 – Sarah Puntigam, 14 – Marissa Viggiano (67' 30 – Sophie Hirst), 77 – Andressa Alves (69' 15 – Barbara Olivieri), 8 – Nichelle Prince (67' 29 – Joelle Anderson), 3 – Caprice Dydasco, 11 – Diana Ordóñez
Subs not used: 0 – Emily Alvarado, 23 – Ally Prisock, 31 – Madelyn Desiano, 37 – Jyllissa Harris, 39 – Cameron Tucker
Head Coach: Sarah Lowdon
Stats Summary: Racing Louisville / Houston Dash
Shots: 17 / 19
Shots on Goal: 6 / 5
Expected goals: 1.43 / 1.21
Possession: 52.7% / 47.3%
Fouls: 12 / 15
Offside: 5 / 4
Corner Kicks: 5 / 4
Discipline Summary
Houston Dash:
2' Marissa Viggiano (yellow)
51' Maria Sanchez (yellow)
83' Sarah Puntigam
Referee: Elvis Osmanovic
VAR: Emma Richards