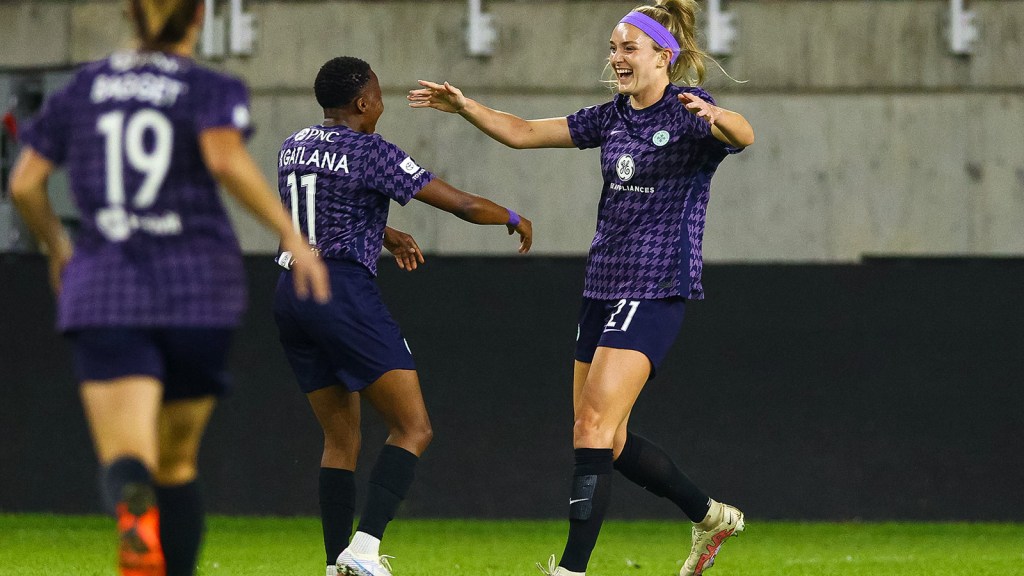 Racing Louisville hopes to bounce back into the win column when it travels to Illinois for a mid-week UKG NWSL Challenge Cup matchup against the Chicago Red Stars.
Kickoff is set for 8 p.m. ET and the game will be streamed on Paramount+. It'll be the second match of the Challenge Cup group stage for Racing, which opened the competition with a win over Kansas City.
This year's Challenge Cup will be a different format than last year when it was primarily played in the preseason buildup to the regular season. The 2023 version will run concurrently with the NWSL season, with all 12 teams competing in three groups through August and the semifinals and final set for early September.
A $1 million pot will be shared among the players of the four semifinalists.
Racing (1-0-0, 3 points) shares the top spot in the Central Division group standings with Houston and Kansas City, though the Dash and Current, respectively, have played two Challenge Cup games so far. Savannah DeMelo scored twice and Ary Borges added a third goal in a 3-2 Racing win over KC two Wednesdays ago.
Like Racing, Chicago has only played one Challenge Cup game so far, a 2-0 loss to Houston on May 3. The Red Stars snapped a six-match winless stretch with a regular-season win over Orlando this past weekend.
This will be the eighth meeting across all competitions between the teams, with Racing winning one, Chicago winning two and the teams splitting four draws. Racing and the Red Stars tied both of their Challenge Cup matches against each other last year.
Follow along…
• For Starting XI and in-game updates, follow @RacingLouFC on Twitter and Racing Louisville FC on Facebook. Also find us at @racinglouisvillefc on Instagram.
• The game will be streamed live on Paramount+, and international viewers may watch for free on NWSLSoccer.com.
Story lines …
Baggett bags her first: Racing midfielder Jordan Baggett scored her first goal for Louisville since arriving via trade in late April, nodding in a Lauren Milliet cross in the 89th minute of Racing's 2-1 loss to North Carolina over the weekend. It was Baggett's sixth NWSL regular-season goal. She now has one goal and one assist for Racing, matching her output to last season, when she appeared in 12 matches with the Washington Spirit.
Lo on a high: Lauren Milliet continued her run of strong performances on Saturday night, assisting Jordan Baggett's goal against North Carolina and extending her regular-season iron woman run to playing every minute in nine games. The Colorado native now has two goals and three assists as a pro, including two goals and two assists with Racing. Traditionally a midfielder, Milliet has slotted in at right back for Racing over a number of games the past two seasons, starting all nine matches this year in that position.
Shot-blocking duo: Ranked first and third in the league, respectively, Julia Lester and Abby Erceg are among the best in the NWSL in blocked shots per 90 minutes. The center back pairing average 3.3 blocked shots per game, with Lester accounting for 1.9 of them. Lester has started five games since returning from injury, joining Erceg as the preferred center back partnership for coach Kim Björkegren. Erceg has played every minute this season across all competitions.
Global Racing: Racing Louisville is the first club in NWSL history to feature players from six different continents on its roster. The Louisvillians already had an international flavor last year, with four continents represented. But the additions of Brazilian midfielder Ary Borges as well as Nigerian forward Uchenna Kanu and South African forward Thembi Kgatlana nudged Racing to six continents. Abby Erceg, who made 146 appearances for New Zealand's national team, reinforced Australian midfielder Alex Chidiac as a second representative from Oceania.
World Cup year: This is a big year for women's soccer, with the 2023 FIFA World Cup set for Australia and New Zealand from July 20-August 20. Racing should be well-represented at the planet's biggest competition. There are nine current internationals on Racing's roster, and seven of their countries have qualified for the World Cup. The NWSL will only play one regular-season game in the World Cup window, instead scheduling half of the NWSL UKG Challenge Cup matches for that period.