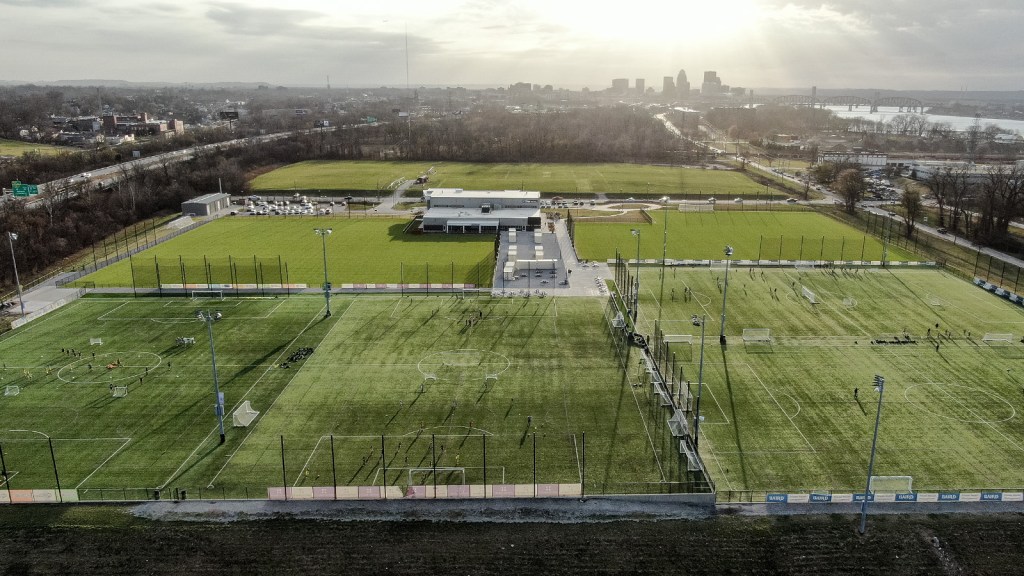 The LouCity & Racing Foundation — charitable branch of Soccer Holdings, LLC — has teamed up with Hanger Clinic to provide a unique opportunity open to people with limb loss or limb difference, those who use orthotics or braces, or anyone else with physical challenges.
Players from both Louisville City FC and Racing Louisville FC will on June 11 help lead a free "Louisville Moves" orthotic and prosthetic mobility workshop at the Lynn Family Sports Vision & Training Center, 801 Edith Road. To register, email your interest in attending to louisvillemovesclinic@gmail.com.
Hanger Clinic is a local prosthetic and orthotic care provider with four clinics in Louisville, where they have been serving the limb loss and limb difference community for more than 30 years. A major aim of the event is to help attendees of all ages and abilities adapt to athletic activities, allowing them to remain active and achieve their goals. Certified prosthetists and orthotists will be on hand to assist.
"We are excited to be partnering with Louisville Moves and our local pro soccer clubs to bring this one-of-a-kind event to our city," said Hanger Clinic's Michael McCauley, CPO (certified prosthetist / orthotist). "Adaptive sports are an important way to build community, encourage health and mobility and show people living with limb loss, limb difference or other physical challenges what's possible."
The LouCity & Racing Foundation's program director, George Davis, will coordinate a mix of soccer and non-soccer activities during Louisville Moves. Davis played professionally for more than a decade, including his final six seasons for LouCity.
Also involved will be the world's most-famous women's soccer player with a limb difference. Defender Carson Pickett, who was born without part of her left arm, stars for Racing Louisville. Just last year she earned a call up to the U.S. Women's National Team.
"I am so excited we are hosting this clinic," Pickett said. "Connecting with our community is super important for us as players and as a club. I can't wait to see everyone there!"
Louisville Moves participants will receive their choice of a complimentary ticket to see the pros play before working with them. Racing hosts San Diego Wave FC on Friday, June 9, before LouCity welcomes Memphis 901 FC on Saturday, June 10 — both at Lynn Family Stadium.
Located two miles east of the stadium, the Lynn Family Sports Vision & Training Center serves as the day-to-day home of Louisville's professional soccer clubs and their front office staffs. Wheelchair users attending Louisville Moves will be accommodated with preferred parking.