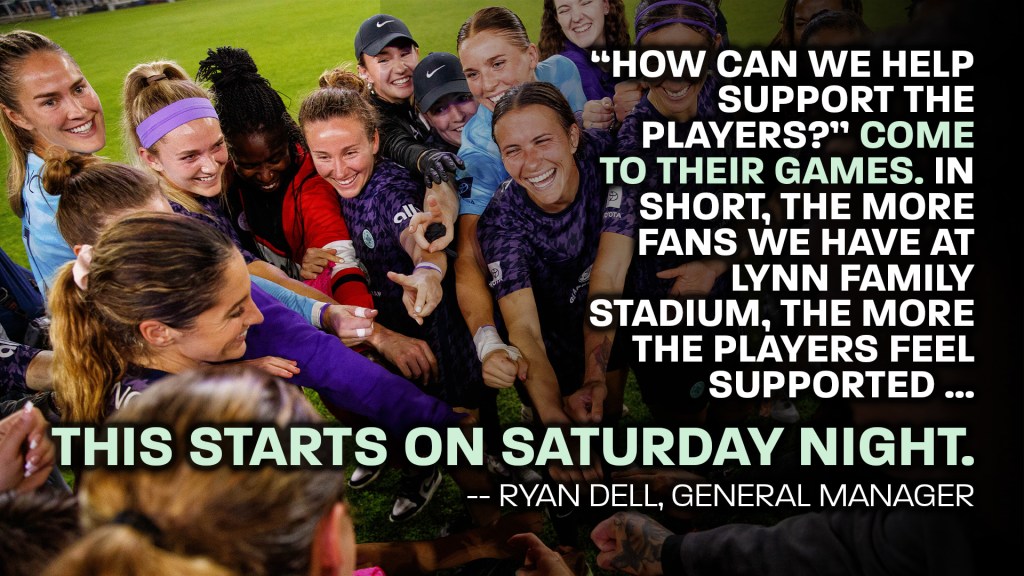 Dear Racing Fans,
First, I want to thank each of you for the warm welcome you have provided my wife and me. We love getting to know Louisville and the people who make this community so special.
What an exciting time this is for Racing Louisville FC. Our team has seen exponential growth over the first few months of the 2023 season, and we are just getting started. For the first time in club history, Racing is on a three-match winning streak. We're unbeaten over our last six games at Lynn Family Stadium.
People often ask me, "How can we help support the players?" Come to their games. In short, the more fans we have at Lynn Family Stadium, the more the players feel supported. Creating the best home-field advantage in the National Women's Soccer League will directly impact and enhance their play on the field. Our players feel confident and inspired when they hear the drums, chants and cheers for 90 minutes. This starts on Saturday night.
At 8 p.m. Saturday, we host the North Carolina Courage, who are only one point ahead of us in the standings for the sixth playoff spot. We want the crowd to be loud and proud rooting for the home team, so we have created a Friends & Family ticket discount for $15 chairback tickets. I invite you to join us if you weren't already planning to, and if you already have tickets, please share this deal with everyone you know so we can support each Racing player and keep the momentum rolling. 
We love the team we have, and our players love this community. Look no further than Jaelin Howell's new partnership with Down Syndrome of Louisville, or the work Katie Lund and Carson Pickett are undertaking with Norton Children's Hospital that we'll detail more in the near future. Our locker room is full of bright, caring, fun individuals, with a great foundation building around Abby Erceg, Savannah DeMelo, Jaelin Howell, Katie Lund, Lauren Milliet and Paige Monaghan, who have all recently signed contract extensions. The addition of Jordan Baggett via trade in April has only strengthened our group with Jordan's great personality and leadership qualities.
What's more, Racing will be well-represented at this summer's FIFA Women's World Cup in Australia and New Zealand, where we expect as many as six players to compete on the World's biggest stage. Playing for your national team is the highest honor a player can receive in professional soccer, and as someone who was a part of two World Cup-winning U.S. national teams, I know the hard work and dedication required to succeed on this stage. This success starts at the club level, and I am so proud that Racing Louisville's players will display their growth and development Down Under.
Those who have already supported us – thank you. Those of you interested in joining us: Now is the time to get behind this great squad. I look forward to seeing you at Lynn Family Stadium on Saturday and throughout the summer!
Thank you,

Ryan Dell
General Manager, Racing Louisville FC