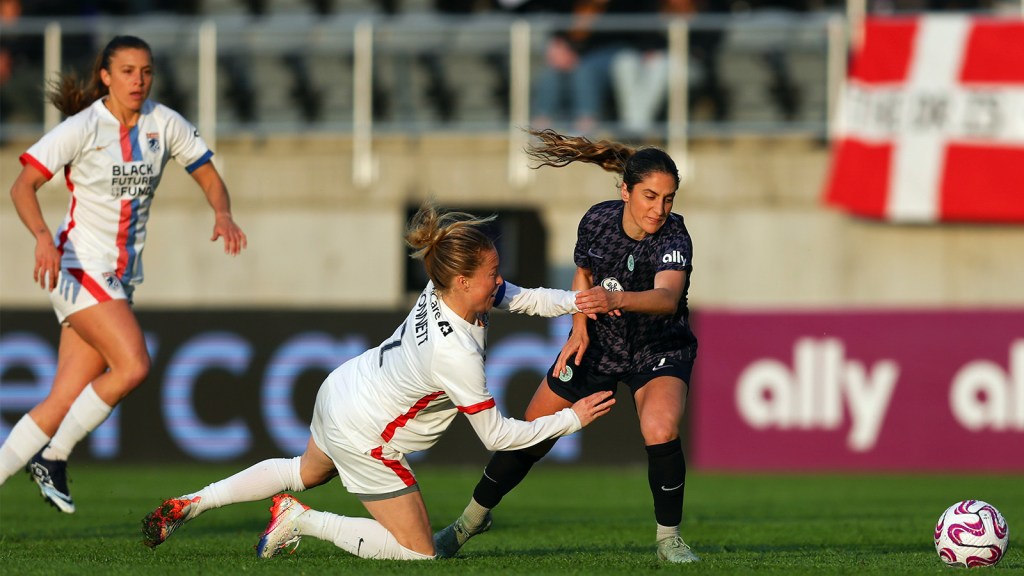 In front of an important set of eyes, star midfielder Savannah DeMelo showed in Friday's 3-0 Racing Louisville win over Chicago just how much of a game-changer she can be.
DeMelo was everywhere on the field with U.S. Women's National Team head coach Vlatko Andonovski watching in the crowd as the coach considers his squad for the upcoming 2023 FIFA Women's World Cup. The 25-year-old, who received her first national team call-ups last fall, has been on the fringes of the team this year, but her strong start to the season has given Andonovski and his staff something to consider.
"I'm doing everything I can for this team and the city to just keep playing well and to get the three points," DeMelo said when asked if she's making a case for inclusion in the U.S.'s World Cup team.
Regardless of her future with the national team, DeMelo is off to a magnificent start to the 2023 campaign, picking up where she left off as a rookie in 2022 and taking her influence on games to a new level.
The California native has two goals and an assist, and her penalty against Chicago bounced in after hitting Red Stars goalkeeper Alyssa Naeher, counting as an own goal. She ranks seventh in the league in shot-creating actions and eighth in goal-creating actions, and she's tied for 10th with 11 chances created.
Left back Carson Pickett, who has made two appearances for the U.S. Women's National Team, said DeMelo's work ethic is "unbelievable." When DeMelo was suspended for the May 6 match at Orlando, she stayed in Louisville and worked out with her dad, a club coach in California, through the weekend.
"Not only is she quality going forward, she helps defensively – she's all over the pitch," Pickett said. "I feel like I'm pretty fit, but she's really, really fit. She helps me tremendously. She's cutting off passes. She listens. She's tenacious. She wants to create things. She wants to score goals. She wants to assist. That's going to take her to the next level, having that confidence to continue to do what she's good at – dribbling with the ball and passing in the final third."
In Friday's win over Chicago, DeMelo once again filled up the stat sheet, with three shots on target, 12 touches in the Chicago box, two chances created, three possessions won in the opponent's final third, two fouls won and two interceptions.
Hers was part of a good team performance that led to Louisville's first win of the season. Twice before this campaign, Racing led 2-0 at halftime only to concede twice in the second half and draw. Against Chicago, Racing kept pushing in the second half and added an insurance goal late.
"It's just the details," DeMelo said. "Every player contributed to the those details today. That was the difference between 3-0 and 2-1 or 2-2 and them coming back."
There are about five more weeks before players start leaving for national team camps ahead of the World Cup. That means a handful of more games for DeMelo to make Andonovski's squad decision that much harder.
And for Racing, there are five more months for DeMelo to keep rising as one of the league's best players – a welcome thought for a team hoping to get hot after its first win and contend for a playoff spot this year.