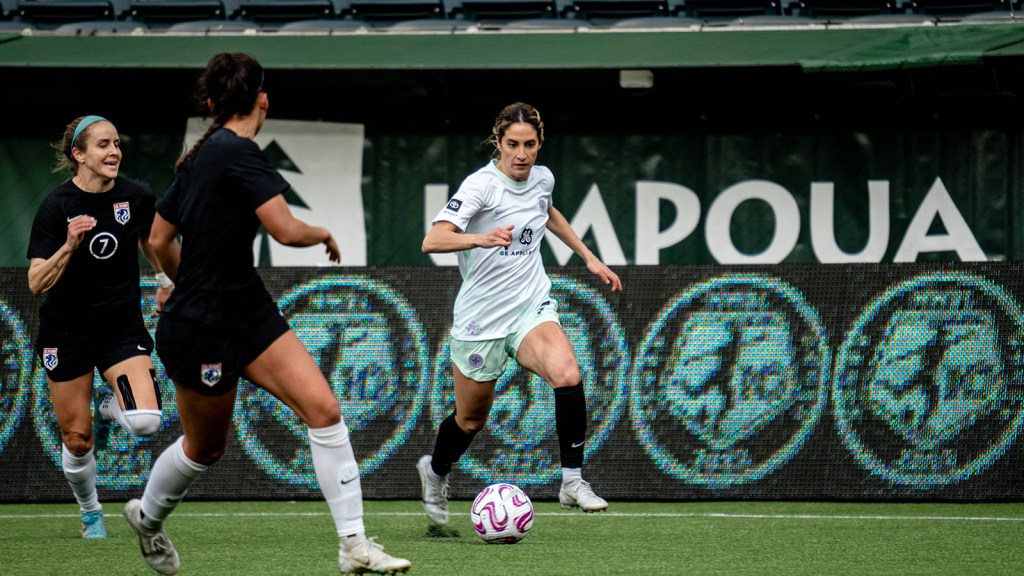 Portland, Oregon – Kayla Fischer scored the game-winning goal and Jess McDonald added an insurance goal to help Racing Louisville beat OL Reign, 2-0, on Wednesday night in the second game of the Portland Thorns preseason tournament.
The goals reflected the performance from the Louisvillians, who had four good scoring chances in the first half before Fischer broke through in the 50th minute. McDonald scored hers in the 65th.
"It's always fun to win," Racing head coach Kim Björkegren said. "Even if it's a friendly, it's important for us to win with this group. We have a little bit of a new group, so to find ways to win is important, especially closer to the league start. I'm happy."
Racing rotated its squad in a few places after the tournament-opening match against Portland on Sunday, making four changes to the starting lineup. The group showed no real change from the cohesion it showed days earlier vs. Portland, moving the ball well and looking particularly dangerous on counters.
Fischer's deflected goal, scored in the 50th minute, rewarded Racing for its strong performance and provided another highlight to the rookie midfielder's impressive preseason so far. It was her second goal in a Racing scrimmage in the buildup to the regular season.
The Ohio State product scored five minutes after she came on as a substitute at halftime.
"She's really, really talented," Björkegren said. "She has some work to do a little bit on defense, but with the ball, her first touch and how she moves – she's almost like a snake. It was a great goal."
McDonald's goal was a case of veteran savvy. One of the NWSL's most decorated and accomplished players read a poor back pass perfectly, getting a toe to the ball before OL Reign goalkeeper Laurel Ivory at the edge of the area, then tapping the ball into an open frame.
The goal made up for McDonald smacking the crossbar in the first half, an unfair end to the play after her smooth combination play with midfielder Savannah DeMelo.
The match was the second of three in Portland. Racing will finish the tournament at 8 p.m. ET Saturday against the U.S. Women's National Team U-23s.
Fans can follow preseason games via the club's social media accounts, where any live streaming details will be posted if available.
Racing Louisville FC vs. Portland Thorns
Wednesday, 8 p.m. ET kickoff
Providence Park
Portland, Oregon
Racing Louisville (0, 2, 2)
OL Reign (0, 0, 0)
Racing Louisville (4-3-3): 1 – Katie Lund; 16 – Carson Pickett (59' 44 – Satara Murray), 20 – Abby Erceg (78' 23 – Trinity Watson), 4 – Elli Pikkujämsä, 3 – Zaneta Wyne (59' 5 – Paige Monaghan); 6 – Jaelin Howell (c) (39' 25 – Rebecca Holloway), 7 – Savannah DeMelo (46' 9 – Kayla Fischer), 8 – Ary Borges (59' 2 – Lauren Milliet); 14 – Jess McDonald (78' 29 – Uchenna Kanu), 21 – Parker Goins (59' 22 – Kirsten Davis), 27 – Alex Chidiac (78' 77 – Wang Shuang)
OL Reign (4-3-3): 18 – Laurel Ivory; 22 – Ryanne Brown (46' 14 – Jimena Lopez), 17 – Sam Hiatt (62' 2 – Emily Sonnett), 25 – Shae Holmes (84' 3 – Lauren Barnes), 20 – Alyssa Malonson (71' Sofia Huerta); 7 – Nikki Stanton (84' 4 – Alana Cook), 33 – Olivia Van Der Jagt (62' 13 – Marley Canales), 12 – Olivia Athens (62' 16 – Rose Lavelle); 24 – Veronica Latsko (71' Natalie Viggiano), 8 – Bethany Balcer (c) (46' 9 – Jordyn Huitema), 34 – Elyse Bennett (62' 23 – Tziarra King)