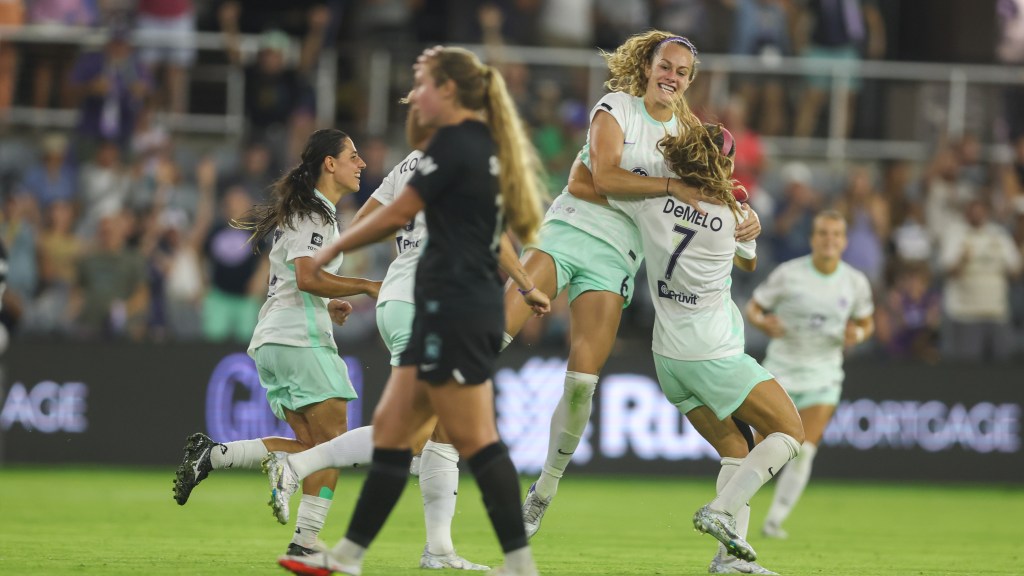 The National Women's Soccer League on Wednesday announced its broadcast schedule for all regular season, Challenge Cup and playoff matches, with Racing Louisville FC set for three of the league's national television slots.
Racing's 4 p.m. June 18 match against NJ/NY Gotham FC was selected to be on CBS, while its 10 p.m. match April 15 at Angel City FC and its 7:30 p.m. May 27 home match against the North Carolina Courage will air on CBS Sports Network. Each of the club's other 19 regular season and six Challenge Cup matches will stream via Paramount+.
Racing's first-ever local broadcast deal is pending.
Racing opens at 7 p.m. March 26 at the Houston Dash before its home opener at 3 p.m. April 1 against the Washington Spirit. The regular season runs through Oct. 15, when Racing plays at 5 p.m. versus San Diego Wave FC on the NWSL's "Decision Day." Every league match will kick off at the same time that day with playoff spots potentially on the line.
The NWSL quarterfinals will be split between CBS Sports Network and Paramount+ on Oct. 22, while the league semifinals will both air Nov. 5 on CBS Sports Network. The 2023 Ally NWSL Championship presented by CarMax is set for Nov. 11 on CBS.
The 2023 UKG Challenge Cup will run concurrently with the regular season. The Sept. 6 semifinal will air on CBS Sports Network, while the Sept. 9 final is on CBS.
Fans can sync all Racing games to their calendars by visiting RacingLouFC.com/2023-schedule. Tickets are available by visiting RacingLouFC.com/tickets or calling (502) 568-2489 during business hours.
The NWSL regular season and Challenge Cup are both included in Racing's season ticket package, starting at $14 per game. Season ticket members can also trade out tickets to games they can't make for additional tickets to other matches.
Racing significantly bolstered its roster this offseason after finishing last season strong, winning three of its last four games. Key foundational players such as goalkeeper Katie Lund and midfielders Savannah DeMelo, Jaelin Howell and Lauren Milliet all signed contract extensions.
Louisville also traded for all-league defenders Abby Erceg and Carson Pickett as well as veteran winger Paige Monaghan, in addition to signing international stars Ary Borges (Brazil), Uchenna Kanu (Nigeria), Thembi Kgatlana (South Africa) and Elli Pikkujämsä (Finland).
2023 Racing Louisville FC schedule
(Home games listed in bold with all times Eastern)
Sunday, March 26: at Houston Dash, 7 p.m. (Paramount+)
Saturday, April 1: Washington Spirit, 3 p.m. (Paramount+)
Saturday, April 15: at Angel City, 10 p.m. (CBS Sports Network)
Saturday, April 22: at Portland Thorns, 10:30 p.m. (Paramount+)
Saturday, April 29: OL Reign, 7:30 p.m. (Paramount+)
Saturday, May 6: at Orlando Pride, 7 p.m. (Paramount+)
Friday, May 12: Chicago Red Stars, 7:30 p.m. (Paramount+)
Wednesday, May 17: Kansas City Current (CC), 7:30 p.m. (Paramount+)
Saturday, May 20: at Kansas City Current, 8 p.m. (Paramount+)
Saturday, May 27: North Carolina Courage, 7:30 p.m. (CBS Sports Network)
Wednesday, May 31: at Chicago Red Stars (CC), 8 p.m. (Paramount+)
Saturday, June 3: at Washington Spirit, 8 p.m. (Paramount+)
Friday, June 9: San Diego Wave, 8 p.m. (Paramount+)
Wednesday, June 14: Houston Dash (CC), 8 p.m. (Paramount+)
Sunday, June 18: NJ/NY Gotham, 4 p.m. (CBS)
Saturday, June 24: North Carolina Courage, 7 p.m. (Paramount+)
Saturday, July 1: at OL Reign, 3:30 p.m. (Paramount+)
Friday, July 7: Kansas City Current, 8 p.m. (Paramount+)
Friday, July 21: Chicago Red Stars (CC), 7 p.m. (Paramount+)
Saturday, July 29: Houston Dash (CC), 8:30 p.m. (Paramount+)
Friday, Aug. 4: Kansas City Current (CC), 8 p.m. (Paramount+)
Saturday, Aug. 19: Angel City, 7:30 p.m. (Paramount+)
Sunday, Aug. 27: at NJ/NY Gotham, 5:30 p.m. (Paramount+)
Saturday, Sept. 2: Portland Thorns, 7:30 p.m. (Paramount+)
Friday, Sept. 15: Houston Dash, 7:30 p.m. (Paramount+)
Saturday, Sept. 30: at Chicago Red Stars, 8 p.m. (Paramount+)
Friday, Oct. 6: Orlando Pride, 7:30 p.m. (Paramount+)
Sunday, Oct. 15: at San Diego Wave, 5 p.m. (Paramount+)