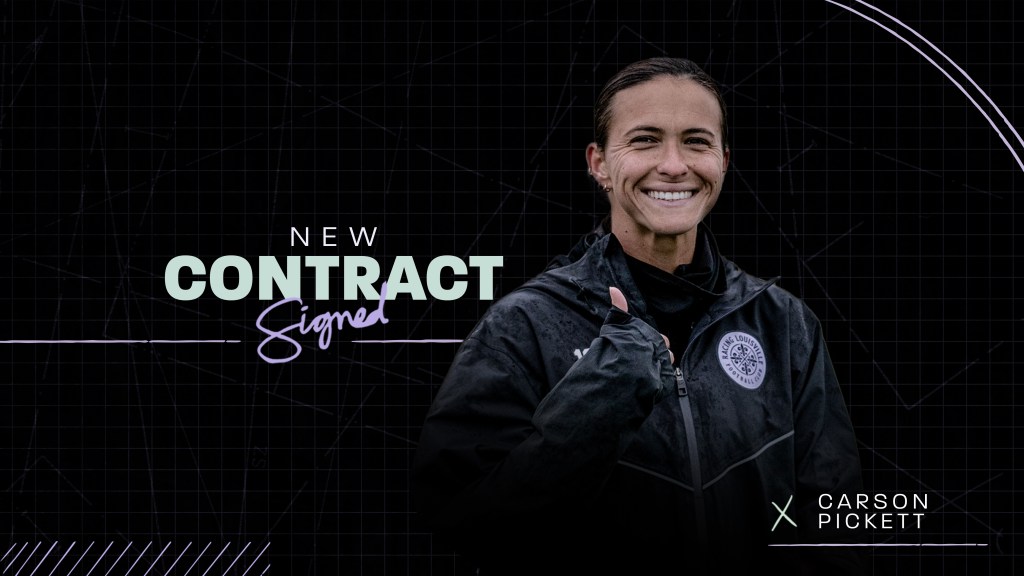 All-league defender Carson Pickett has agreed to a three-year contract with Racing Louisville FC, the club announced Monday.
The 29-year-old left back was acquired in January along with center back Abby Erceg via a blockbuster trade with the North Carolina Courage.
Pickett's new deal runs through the 2025 season.
"I am beyond excited to be staying in Louisville for three more years," Pickett said. "This was the easiest decision for me for so many reasons. Not only are the facilities top-class, but you are also treated like a true professional in every aspect. They have put so much effort into building a team and a locker room that value culture, and that's something that's really important to me. This team is special, and the girls feel like my family already. I am looking forward to the future with this club and hopefully bringing NWSL championships home to Louisville."
"We are so excited to extend Carson's contract and have her here with us for years to come," said Racing coach Kim Björkegren. "She has already made a huge impact on our team, and we know she is one of the best players in this league. What's even better for us is she's a great personality in the team and her teammates love her. I worked with her for a short time in Cyprus and she made an impression on me then, but now I'm really looking forward to work with her longer."
Pickett, a left back who was the fourth pick in the 2016 NWSL Draft, is a Best XI selection over the past two seasons who helped North Carolina win the 2022 Challenge Cup. Her addition gives Racing one of the league's top passers while bringing experience to Louisville's back line.
The Florida native led the NWSL in assists this past season with six, a year after tying for second in the league with five.
In all, Pickett has one goal and 16 assists in 130 NWSL appearances with the Courage, OL Reign and Orlando Pride and has regularly ranked among the league leaders in chances created and interceptions, among other areas.
Pickett made her U.S. Women's National Team debut this past June, appearing in two matches, after featuring for the U-17 and U-23 U.S. Youth National Teams. She won a national championship in 2014 with Florida State.
With Pickett signed through 2025, she joins a growing list of key players to ink new deals with Racing, including goalkeeper Katie Lund and midfielders Savannah DeMelo, Jaelin Howell and Lauren Milliet.
Louisville's 2023 campaign will play out over the next seven months, starting with the regular-season opener at Houston on March 26 and concluding in mid-October. In total, Racing will play at least 28 games – 22 in the NWSL season and at least six in the NWSL Challenge Cup. Season, group and premium tickets are on sale now and can be purchased by visiting RacingLouFC.com/tickets.