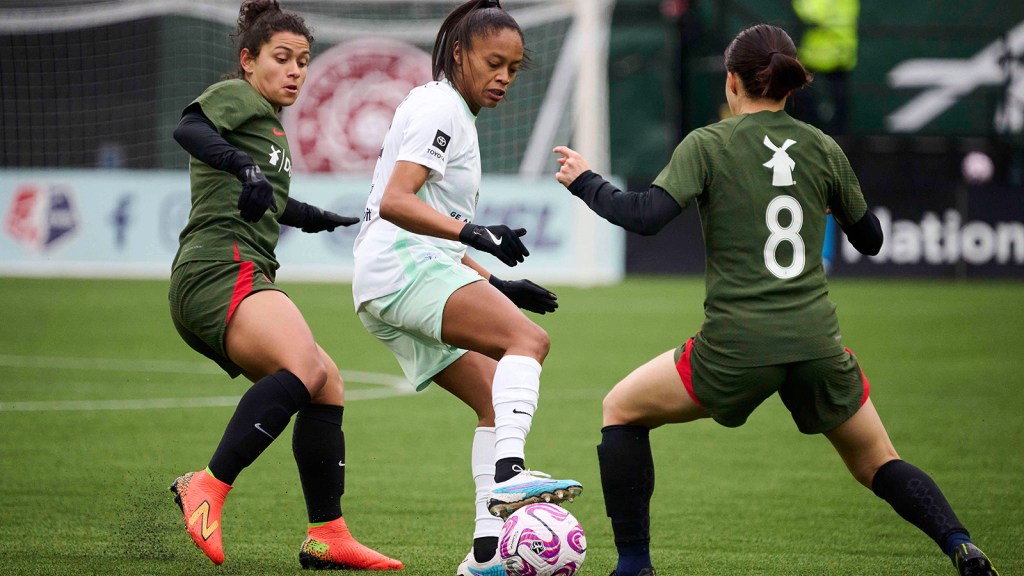 Portland, Oregon – A late game-winner from Meaghan Nally proved the difference in a Portland Thorns' 1-0 win over Racing Louisville on Sunday night in the Thorns preseason tournament opener.
Nally nudged in a loose ball in the box off a corner in the 86th minute, giving Portland the edge at Providence Park.
But Racing head coach Kim Björkegren left the match feeling positive about his team's performance.
"Overall, it was really good," Björkegren said. "Of course it's not so fun to lose the game from a set piece with just three minutes left. But if you compare this game with the game we played here five months ago – that was a game we were almost happy we lost only 3-0, but today we are super disappointed because we felt like we could win the game. It was a close game. We had our chances. We need to be a little bit better inside the box. But we're doing a great job and there are so many positive things to take with us."
Racing twice came close to scoring and taking the lead. Jaelin Howell's header off a corner fizzed past the far post just before halftime. Jess McDonald just missed the far post in the 79th minute, when she cut back left to right and nearly curled in a shot from the edge of the area.
Goalkeeper Katie Lund made several fine saves, too, keeping reigning league MVP Sophia Smith at bay on a breakaway and later making a spectacular reaction save on an on-target shot that she didn't see until it cleared the traffic in front of goal.
The match was the first of three in Portland. Racing will take on fellow NWSL squad OL Reign on Wednesday night before finishing out the tournament against the U.S. Women's National Team U-23s.
Fans can follow preseason games via the club's social media accounts, where any live streaming details will be posted if available.
Racing Louisville FC vs. Portland Thorns
Saturday, 8 p.m. ET kickoff
Providence Park
Portland, Oregon
Racing Louisville (0, 0, 0)
Portland Thorns (0, 1, 1)
Racing Louisville (4-3-3): 1 – Katie Lund; 16 – Carson Pickett, 20 – Abby Erceg, 4 – Elli Pikkujämsä (56' 25 – Rebecca Holloway), 2 – Lauren Milliet; 6 – Jaelin Howell (c), 7 – Savannah DeMelo, 8 – Ary Borges (64' 9 – Kayla Fischer); 5 – Paige Monaghan (64' 14 – Jess McDonald), 22 – Kirsten Davis (85' 21 – Parker Goins), 77 – Wang Shuang (64' 27 – Alex Chidiac)
Portland Thorns (4-3-3): Bella Bixby (c); 25 – Meghan Klingenburg (72' 45 – Natalie Beckman), 5 – Emily Menges (46' 44 – Gabby Provenzano), 20 – Kelly Hubly, 14 – Natalie Kuikka (62' 39 – Meaghan Nally); 17 – Sam Coffey (72' 46 – Taylor Porter) 11 – Rocky Rodriguez (62' 12 – Christine Sinclair), 13 – Olivia Moultrie; 8 – Hina Sugita (72' 33 – Hannah Betfort), 9 – Sophia Smith (62' Izzy D'Aquila), 15 – Michele Vasconcelos (62' 16 – Janine Beckie)