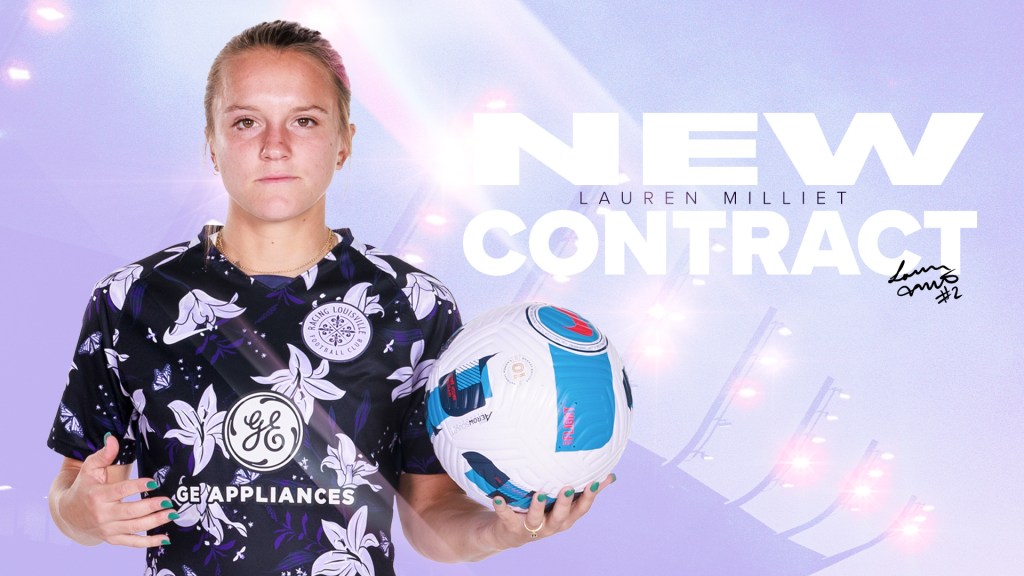 Playing a key role in building the foundation of Racing Louisville FC, Lauren Milliet signed a new three-year contract running through the 2025 season, the club announced Thursday.
Milliet, 25, is the second-longest-tenured player with Racing and recently became the club's first to hit 50 NWSL appearances. The Colorado native has played in every Racing match to date, leading the club in all-time minutes (2,960).
"I'm really excited," Milliet said about her new contract. "I like what we're building here. I love Louisville. I have felt that this is a home away from home for me and my family. I am pumped to stay. It's a really great place. "
An expansion draft selection, Milliet joined Racing from the North Carolina Courage. She has featured in a number of roles over the past two seasons, including central midfielder, winger and outside back. She has two goals and one assist. Her game-winning goal at NJ/NY Gotham FC in May was her first NWSL regular-season score.
"I just want to do my part," Milliet said. "Wherever the team needs me, I'm there for them. I just want to be part of this team and on the pitch."
Milliet, who graduated from Colorado College in her home state, is an integral part of Racing's locker room. She has also become active with the Racing Louisville Academy, working toward her coaching license.
"It means a lot for this young team to have Lauren re-sign with the club," said Racing coach Kim Björkegren. "She was the first player to play 50 games and is already an icon for this club. Lauren is mobile. She can and has played in almost every position on the field. She works hard for the team. For me as a coach, Lauren is a really good and useful player. I look forward to continuing to work with her."
Off the field, Milliet enjoys reading, hiking with her two dogs and exploring the Louisville café scene. This offseason, Milliet will marry her fiancé, Cam.