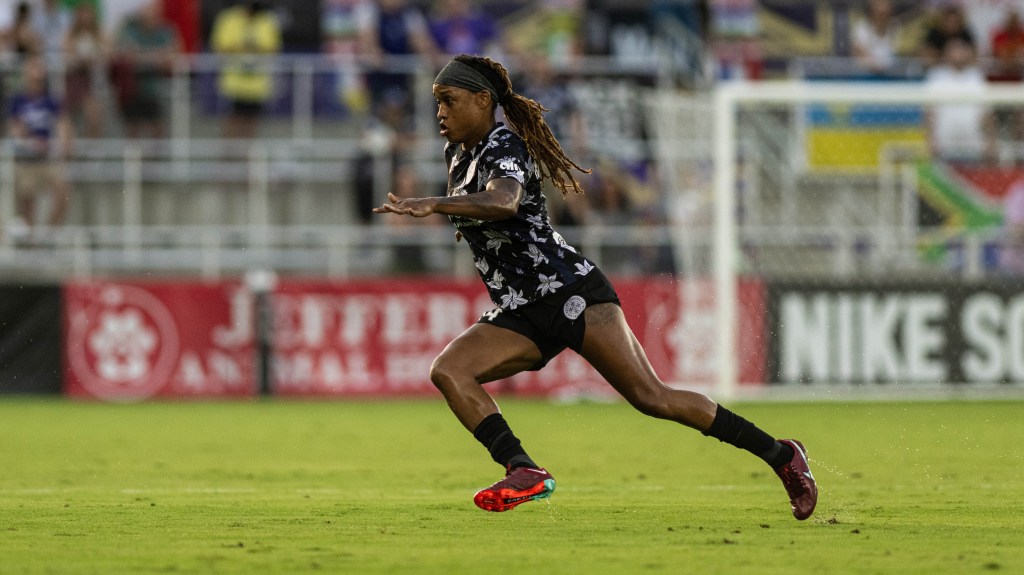 Racing Louisville FC will host OL Reign on Tuesday night in a matchup of clubs that could grow plenty familiar with one another this month.
It has been since Game 2 of the season — a May 8 draw in Seattle — that Racing Louisville first saw OL Reign this season. But in addition to Tuesday's 8 p.m. meeting, Reign will return to town later this month for The Women's Cup, a six-team event in which both NWSL sides are automatically advanced to the semifinals.
Heading into Game 2 of potentially 3 between the sides in 2022, Reign sits on the playoff bubble. The visitors are 5-3-5, 5th on the NWSL table, while Racing is looking for a rally from 11th over the second half of the season with a 2-5-6 record.
Reign has been exceedingly stingy this year, with its 14 goals for ranking sixth of 12 teams in the league. But OL rarely concedes, allowing only 11 against. The club will travel to Louisville off a comeback 3-2 win over Angel City FC.
Racing, meanwhile, recently flattered itself against some of the NWSL's best, playing San Diego Wave FC to a draw on July 15 before allowing a second half game winner over the weekend to Portland Thorns FC.
Follow along…
• For Starting XI and in-game updates, follow @RacingLouFC on Twitter and Racing Louisville FC on Facebook. Also find us at @racinglouisvillefc on Instagram.
• The game will stream live on Paramount+ in the United States and on Twitch internationally.
Player availability report
Story lines...
Dog days of summer: After more than 300 furry companions visited Lynn Family Stadium in April for Louisville City FC's first "Pups at the Pitch" game, Racing gets its turn Tuesday. Visit RacingLouFC.com/pups for more information, with funds to be donated to the Kentucky Humane Society and the first 2,500 in getting a free bandana.
Frustrating fixtures: With eight games to go, time is running short for Racing to rally into the league's top six despite much-improved numbers from a year ago. The club has attempted more shots than opponents (179 to 174); goalkeeper Katie Lund leads the league with 51 saves; and eight players have registered a goal, matching 2021's total.
Winless run: Racing went from Aug 15-Oct. 9 during its inaugural season without a victory, a run of nine games. Louisville would match that streak if it doesn't claim all three points against OL Reign. It has been since May 22 that the club won a game.
Schedule congestion: Exiting the NWSL's league-wide break, Racing will play seven games in 30 days — including The Women's Cup — through Aug. 27. That includes a Friday-Tuesday-Friday run of home dates this week concluding with a visit from the defending NWSL champion Washington Spirit.
Alex's angle: Australian midfielder Alex Chidiac — who signed with the club in April and debuted in May — opened her NWSL account Friday against Portland with an eye-catching goal. Chidiac dribbled past a defender on the end line and toe poked a shot past the goalkeeper to equalize in the 30th minute of an eventual 2-1 defeat.
Satara's start: Fresh off helping Jamaica qualify for the 2023 FIFA Women's World Cup, defender Satara Murray made her club debut against Portland, going 78 minutes in center defense. Murray, who numbered a team-high four clearances, joined Racing during the current NWSL transfer window having previously represented English club Bristol City FC.
Nadia's 90: In an important start along her comeback from last year's season-ending knee injury, striker Nadia Nadim went the distance in Racing's game against Portland, marking her first 90-minute performance since scoring in a 1-1 draw against — coincidentally, OL Reign — back on Sept. 4, 2021.
Jess they can: Forward Jess McDonald has rarely had a chance to share the field with Nadim. Last time they did, Nadim subbed on to score a pair of late goals — both assisted by McDonald — in a 2-2 draw June 17 at Washington. McDonald was plenty active beside Nadim when they reunited Friday, leading Racing in passes in the final third (11), shots (six), shots on target (three) and expected goals generated (0.58).
Flashy Fox: On her return from winning the Concacaf W Championship with the U.S. national team, defender Emily Fox looked her usual self in the Portland game. Her 90-minute performance led to a team-high 63 touches and 87% passing accuracy. Fox has featured at either outside back role this year, slotting in on her more regular left side played for club and country.