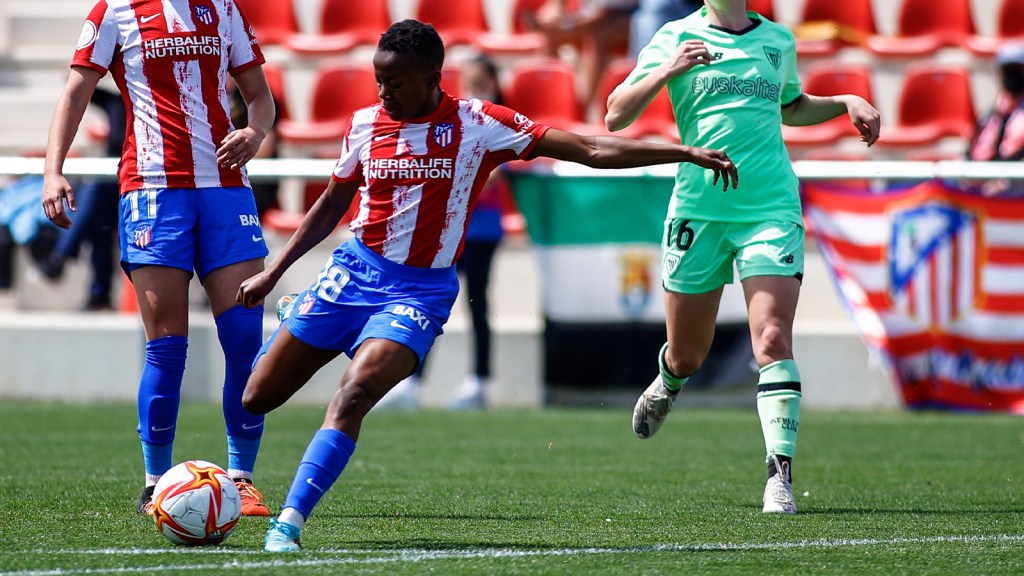 Racing Louisville FC bolstered its attack with the signing of Thembi Kgatlana, a South African national team star and recent African Women's Footballer of the Year, it was announced Wednesday. The club paid a transfer fee to acquire the 26-year-old from Spanish power Atlético Madrid.
Kgatlana – her full name is pronounced "Tim-bee Cot-lawn-uh" – signed a two-year contract with Racing Louisville that also includes a club option to extend the deal through the 2024 season. She will arrive in Louisville after her squad completes the Africa Women Cup of Nations, which started last weekend and finishes with the final on July 23.
"We were looking for a winger/forward who has a good first touch and is not afraid to dribble and attack – and we have found exactly that with Thembi," said Racing coach Kim Björkegren. "What's also important to us is that we signed not just a good player but a good teammate. Thembi always has a smile on her face and loves football, and she is ready to help the team as soon as she arrives in Louisville."
Kgatlana played previously in the NWSL for the Houston Dash and has also represented clubs in China, Portugal and Spain. She joins Racing after a year with four-time Spanish champion Atlético Madrid, where she made 28 appearances and nine starts across all competitions. Kgatlana tallied seven goals and three assists in helping the club finish fourth in Spain's Primera División and reach the final of the Supercopa Feminina.
"I'm very excited to have this opportunity to return to the NWSL with Racing Louisville," Kgatlana said. "It has always felt like there is unfinished business for me in the league, and I can't wait to get started. From the moment I spoke with Kim, it was clear that it is an exciting project. I joined Beijing BG Phoenix shortly after he had left and heard only good things, so it was an easy decision. I look forward to seeing everyone after the Cup of Nations!"
Also a national team standout, Kgatlana has 22 goals in 63 appearances for South Africa, including her country's first-ever World Cup goal, which she scored against Spain in 2019. She debuted for South Africa's senior team as a high school senior at the 2014 Africa Women Cup of Nations and twice started as a 20-year-old at the 2016 Olympics.
In 2018, Kgatlana led her team to the Africa Women Cup of Nations final, earning player of the tournament honors for the runner-up.
"We are very pleased to bring Thembi to Racing Louisville," said club president James O'Connor. "She will bring a wealth of experience with her. She has played in multiple countries at the highest level and also has NWSL experience. Thembi also has been a leader for her national team with a phenomenal goal-scoring record. Our supporters will be excited to see her play as she is an attacking player who can create and score goals."
Previously in the NWSL, Kgatlana played in 16 matches for the Houston Dash in 2018, scoring twice. She moved to Beijing BG Phoenix's squad in 2019, coincidentally a year after Björkegren coached there, netting six goals in 10 appearances. She briefly played for Portuguese club Benfica in 2020, helping the Lisbon-based team qualify for its first UEFA Women's Champions League.
After the COVID-19 pandemic halted the Portuguese season, Kgatlana starred with newly-promoted Spanish club Eibar, tallying 10 goals in 27 games over the 2020-21 campaign.