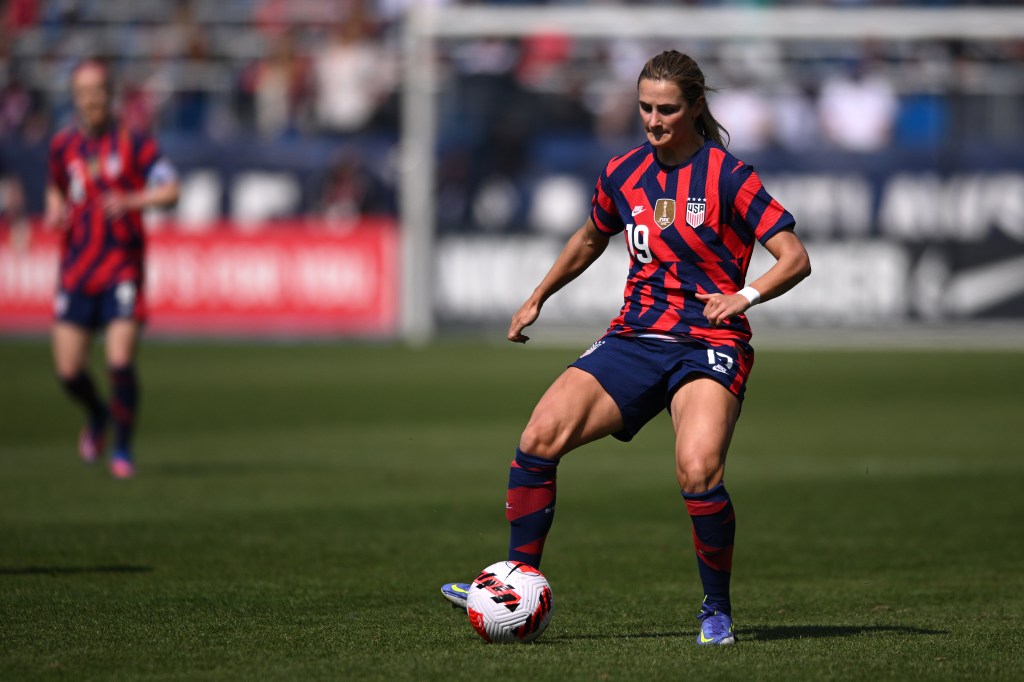 Nine games into the regular season, Racing Louisville FC will get this weekend off from the NWSL action during an international window. Some players will return for Racing's July 3 game against the Orlando Pride, while call-ups will keep others away for most of July as league play continues.
Also notable, midfielder Alex Chidiac, who was originally called up by Australia, will not be joining the Matildas for their two friendlies because of an injury suffered in Friday night's match against the Washington Spirit. Also, midfielder Savannah DeMelo had to pull out of her call up to the United States' U-23s, also due to an injury Friday. DeMelo is expected to be available when league play resumes next month.
Emily Fox and Jaelin Howell – United States
The United States begins its preparation for 2023 World Cup qualification this week with a pair of friendlies against Colombia in Commerce City, Colorado, and Shelby, Utah. Following the exhibitions, the U.S. will travel to Mexico for the CONCACAF W Championship, which will serve as qualification for both the 2023 World Cup and 2024 Summer Olympics in France.
The USWNT, which has won the past two iterations of the tournament, was placed in Group A along with Mexico, Jamaica and Haiti. The top two finishers in the group stage will advance to the semifinals and qualify for the World Cup. The winner of the final on July 18 will also automatically qualify for the 2024 Olympics, while the runner-up will play the winner of the third-place match in the CONCACAF Olympics play-in match in September.
Fox (13 caps) has been a feature in every USWNT camp dating back to October 2021 and will again be involved in both friendlies and the W Championship. For Racing, the defender has started and appeared in eight of nine matches this regular season, scoring her first NWSL goal in the club's season opener against the Chicago Red Stars.
Howell (five caps) was named as an alternate for the W Championship. She will play with the USWNT in its two friendlies against Colombia, including the one in Colorado, her home state, before returning to Louisville ahead of the July 3 match.
Nadia Nadim – Denmark
Denmark returns to the UEFA Women's Euro for the seventh straight time. In the 2017 tournament, the Danish Dynamite finished runner-up to the Netherlands. This tournament, Denmark is in Group B along with Germany, Spain and Finland. On July 8, prior to the start of the tournament, Denmark will play in a pair of friendlies against Brazil and Norway.
Nadim (99 caps) joins Denmark for the first time since June of last year. Since recovering from a severe knee injury that kept her out nine months, Nadim has scored three times, including a two-goal performance that salvaged a draw against the Washington Spirit on Friday.
Rebecca Holloway – Northern Ireland
Northern Ireland qualified for its first Euro and landed in Group A with England, Austria and Norway. In preparation, the Green and White Army is set to face off against Belgium in a Wednesday friendly.
Holloway (10 caps) worked her way into the Northern Ireland squad last year, scoring three times in World Cup qualifying. The defender joined Racing in mid-May and has made two appearances for the club.
Satara Murray – Jamaica
After topping its group in W Championship qualifying, Jamaica enters the final round of the tournament with a chance to qualify for its second-straight World Cup. The Reggae Girlz are in Group A along with the U.S., Mexico and Haiti.
Murray (one cap) was also eligible for the U.S., England and Guyana. She pledged to Jamaica and made her international debut last October in a friendly against Costa Rica. The defender, added to the Racing roster in May, is awaiting her debut for the Louisville club.
Freja Olofsson – Sweden U-23s
The Swedish U-23 squad will play in round-robin tournament with India's senior national team and the U.S. U-23 squad. Both Sweden and the U.S. squad will bring a number of over-aged players for this competition.
Olofsson, 24, was named as one of those over-aged players for Sweden for this window. Last year, the midfielder made two international appearances for Sweden's U-23s. This season for Racing, the midfielder has made seven appearances and five starts so far.
How to follow along
Wednesday, June 22
Sweden U-23 v India*
Thursday, June 23
Northern Ireland v Belgium#
Friday, June 24
Denmark v Brazil (1:50 p.m. ET, Paramount+)
Saturday, June 25
6/25 USA v Colombia (7:30 p.m. ET, FS1)
Tuesday, June 28
6/28 USA U-23 v Sweden U-23*
6/28 USA v Colombia (10 p.m. ET, ESPN)
Wednesday, June 29
6/29 Denmark v Norway+
Monday, July 4
7/4 USA v Haiti (7p.m. ET, CBS Sports Network & Paramount+)
7/4 Jamaica v Mexico (10 p.m. ET, Paramount+)
Thursday, July 7
7/7 Norway v N. Ireland (3 p.m. ET, ESPN 2)
7/7 USA v Jamaica (7 p.m. ET, Paramount+)
Friday, July 9
7/8 Denmark v Germany (3 p.m. ET, ESPN 2)
Monday, July 11
7/11 N. Ireland v Austria (12 p.m. ET, ESPN 2)
7/11 Jamaica v Haiti (10 p.m. ET, Paramount+)
7/11 USA v Mexico (10 p.m. ET, Paramount+)
Tuesday, July 12
7/12 Denmark v Finland (12 p.m. ET, ESPN 2)
Friday, July 15
7/15 N. Ireland v England (3 p.m. ET, ESPN 2)
Saturday, July 16
7/16 Denmark v Spain (3 p.m. ET, ESPN+)
* = Follow @svenskfotboll on Twitter for updates and streaming information.
# = Follow @NorthernIreland on Twitter for updates and streaming information.
+ = Follow @dbulandshold on Twitter for updates and streaming information.