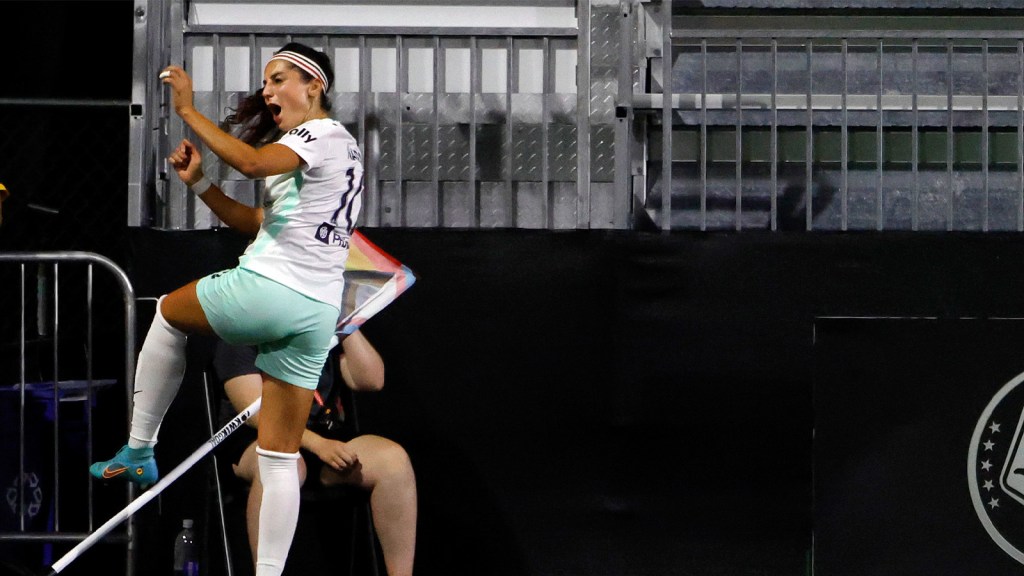 When Nadia Nadim entered the game in the 56th minute, Racing Louisville FC was trailing 2-0 to the Washington Spirit on Friday at Segra Field. By full time, the forward had scored a brace helping Racing secure a 2-2 draw.  
"I think it was worth more than one point for us," Racing coach Kim Björkegren said. "We know that we're maybe the youngest team in the league. For this team to learn and see that fire, they can give us a point in maybe one of the most difficult away games in the in this league. It's was an important one"
Entering the match, Racing was on a three-game losing skid, including a loss last week from a stoppage-time penalty kick. Racing's bad luck continued when the club was forced into an early sub after midfielder Alex Chidiac exited the match with injury in the sixth minute. 
Washington found the back of the net first when Ashley Sanchez slipped a ball through to Trinity Rodman, who finished it to the back post. The Spirit doubled their lead eight minutes later when Maddie Elwell cleaned up a blocked shot from Racing's goalkeeper Katie Lund.
Racing entered the break down two goals, recording only two shots to Washington's 13.
"It was a really tough first half," Nadim said. "At this level, when you are not concentrated you will concede goals, Washington is an amazing team with great players. I will say rough first half, because I think was a tight game but being behind two to zero makes everything hard.
At halftime, we spoke about how this game was not over. Actually, I said that, if they can score two goals, we definitely can do that. Coming back from two to zero shows how strong this team is mentally."
Ten minutes after Nadim entered her third match of the season since coming back from her knee injury, she pulled one back when she combined with NWSL all-time assist leader Jess McDonald. She got her second in the 89th minute when she headed home a cross from McDonald.
This marks the first brace in Racing Louisville history, along with Nadim's first multi-goal NWSL game since 2017 when she scored two for the Portland Thorns against the Boston Breakers.
Friday also marked the first match in which Racing came back from a two-goal deficit to earn a point.
Nadim, who was named to Denmark's 2022 European Championship on Thursday, will depart for international duty, along with seven of her teammates including defender Emily Fox and midfielder Jaelin Howell.
"It gives us a little bit of, you know, some positivity going into the next really into the next game," said McDonald, who tallied her first multi-assist game since 2019. "Now we're motivated and it was just amazing. To see us come back because we needed something. We just came off of three games in a row we lost, so we needed something and that came today and so it was just a very crucial time to do so."
Racing will have the next weekend off from game action before traveling to Daytona, Florida, when they will face the Orlando Pride on Sunday, July 3rd at 8 p..m. ET. 
Game Summary: Washington Spirit vs. Racing Louisville FC
Date: June 17, 2022
Venue: Segra Field
Kickoff: 7:30 p.m. ET
Weather: 78 degrees, mostly sunny
Player of the Match: Nadia Nadim
Scoring
Racing Louisville FC (0, 2, 2)
Washington Spirit (1, 1, 2)
Goals
Racing Louisville FC:
66' Nadia Nadim (Assisted by: Jess McDonald)
89' Nadia Nadim (Assisted by: Jess McDonald)
Washington Spirit:
34' Trinity Rodman (Assisted by: Ashley Sanchez)
43' Madison Elwell
Lineups
Racing Louisville FC (4-2-3-1): 1 – Katie Lund, 11 – Emily Fox, 15 – Julia Lester, 4 – Gemma Bonner, 17 – Nealy Martin (56' 10 – Nadia Nadim), 6 – Jaelin Howell, 8 – Freja Olofsson (78' 21 – Parker Goins), 27 – Alex Chidiac (6' 13 – Emina Ekic, 56' 22 – Kristen Davis), 7 – Savannah DeMelo, 2 – Lauren Milliet,14 – Jessica McDonald
Subs not used: 24 – Jordyn Bloomer, 25 – Rebecca Holloway, 19 – Taylor Otto, 9 – Ebony Salmon
Head Coach: Kim Björkegren 
Washington Spirit (4-2-3-1): 1 – Aubrey Kingsbury, 16 – Julia Roddar (60' 22 – Amber Brooks), 3 – Sam Staab, 6 – Emily Sonnett, 30 – Camryn Biegalski, 12 – Andi Sullivan (61' 7 – Taylor Aylmer), 10 – Ashley Sanchez, 29 – Madison Elwell (60' 21 – Anna Heilferty), 13 – Bayley Feist (46' 5 – Kelley O'Hara), 2 – Trinity Rodman, 33 – Ashely Hatch
Subs not used: 28 – Nicole Barnhart, 19 – Tinaya Alexander, 14 – Morgan Goff, 27 – Audrey Harding, 4 – Karina Rodriguez
Head Coach: Kris Ward
Stats Summary: Washington Spirit/ Racing Louisville
Shots: 26 / 8
Shots on Goal: 8 / 4
Possession: 52.9% / 47.1%
Fouls: 13 / 9
Offside: 7 / 5
Corner Kicks: 8 / 1
Discipline Summary
Racing Louisville FC:
73' Emily Fox (Yellow)
Washington Spirit:
8' Julia Roddar
51' Kelley O'Hara
Referee: Matthew Franz