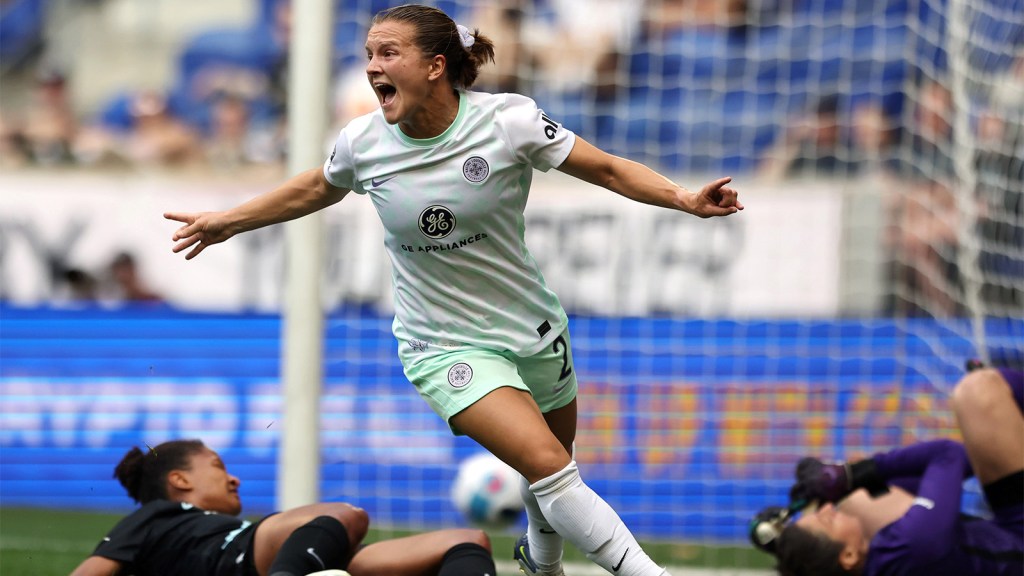 For the first time in its brief history, Racing Louisville FC's on a winning streak.
The club paired a midweek victory over the San Diego Wave with Sunday's 1-0 result at NJ/NY Gotham FC, putting together back-to-back NWSL wins.
Midfielder Lauren Milliet capped a smooth sequence of 13th-minute passes with the game's lone goal, and Katie Lund made four saves — plus got plenty of help from the crossbar — to register her second consecutive clean sheet. The victory moved Racing to 2-1-2 early this season, good for third in the NWSL standings.
"Two back-to-back wins and shutouts feels good," Lund said. "I think it only tells the fans and the people watching how far we've come but also how far we have left to go. Obviously it's the beginning of the season. No one's fully satisfied. We're still looking ahead."
Racing's early work made the difference Sunday at Red Bull Arena in Harrison, New Jersey. The club controlled 60% of possession leading up to its goal, rarely allowing the ball to leave Gotham FC's half.
It was a successful transition that created the game-winner, with Alex Chidiac sliding a pass forward to Cece Kizer, whose second touch found Jess McDonald in the box. McDonald crossed to Milliet, and she fired a laser of a shot high and into the back of the net.
"The ball just moved down the left side really well, and then Jess got it at the top of the box," Milliet said. "I was sprinting as hard as I could at the back post. I was the end product, and the buildup to that was beautiful."
Milliet, having scored her first NWSL goal during this year's preseason Challenge Cup tournament, made Sunday's strike her first regular season goal. McDonald's 28th regular season assist ranks No. 1 all-time in the league.
This result broke a stranglehold on the Racing-Gotham FC series. Dating back to 2021 — Racing's inaugural campaign — the clubs drew in all four prior meetings. A win also made this Racing's longest unbeaten streak so far at four games.
"It means a lot," Milliet said of the milestone. "I think everyone can see this team is something special, and we're building something special. We believe in ourselves, and I think the results show that. We're getting better each game."
Gotham proved tough to keep off the score sheet, particularly U.S. Women's National Teamer Kristie Mewis. The midfielder, looking poised to cross in a 43rd-minute free kick, instead caught Lund out a bit when firing a shot off the cross bar. She hit the bar again in the second minute of first half stoppage time on a crafty try from distance.
Earlier, in the 30th minute, Racing only partially cleared a Gotham FC corner, and the ball landed to Nahomi Kawasumi. She took a volleyed shot Lund athletically parried away off the crossbar.
Racing tried 11 total shots but ultimately didn't need a second goal. That's in large part due to the woodwork, which Gotham FC managed to hit five times — including on a chipped Ifeoma Onumounu try in the 88th minute.
"We were lucky today," said Racing's head coach, Kim Björkegren. "They deserve at least one point — we need to be honest — but also I need to be extremely proud of my team, my players and how hard they worked…We've been a little bit unlucky before in a few games, but today that was on our side."
After some schedule congestion, playing three games in nine days, Racing gets some relief this week. It won't be until Memorial Day — May 30 — that the club is back in action at the KC Current looking to extend a solid run of form.
Game Summary: NJ/NY Gotham FC vs. Racing Louisville FC
Date: May 22, 2022
Venue: Red Bull Arena
Kickoff: 5 p.m.
Weather: 92 degrees, mostly sunny
Player of the Match: Lauren Milliet
Scoring
Gotham FC (0, 0, 0)
Racing Louisville FC (1, 0, 1)
Goals
Racing Louisville FC: 13' Lauren Milliet (Jess McDonald)
Lineups
Racing Louisville FC: 1 — Katie Lund, 11 — Emily Fox, 15 — Julia Lester, 4 — Gemma Bonner, 17 — Nealy Martin (56' 56' 8 — Freja Olofsson), 6 — Jaelin Howell, 7 — Savannah DeMelo (90' 19 — Taylor Otto), 27 — Alex Chidiac (56' 23 — Sh'Nia Gordon), 5 — Cece Kizer (74' 22— Kirsten Davis), 2 — Lauren Milliet, 14 — Jess McDonald (74' 9 — Ebony Salmon)
Subs not used: 24 – Jordyn Bloomer, 3 – Erin Simon, 21 — Parker Goins, 26 — Addisyn Merrick
Head Coach: Kim Björkegren
Gotham FC: 1 — Michelle Betos, 28 — Imani Dorsey, 24 — Estelle Johnson, 22 — Mandy Freeman, 3 — Caprice Dydasco (64' 21 — Ellie Jean), 7 — McCall Zerboni (81' 17 — Domi Richardson), 9 — Nahomi Kawasumi (64' 5 — Nicole Baxter), 4 — Paige Monaghan (46' 23 — Midge Purce), 19 — Kristie Mewis, 13 — Kumi Yokoyama (46' 2 — Cameron Tucker), 25 — Ifeoma Onumounu
Subs not used: 18 — Ashyln Harris, 8 — Taryn Torres, 11 — Ali Krieger, 12 — Gina Lewandowski
Head Coach: Scott Parkinson
Stats Summary: Gotham FC / Racing Louisville FC
Shots: 13 / 11
Shots on Goal: 4 / 2
Possession: 50.2% / 49.8%
Fouls: 15 / 10
Offside: 2 / 0
Corner Kicks: 4 / 7
Discipline Summary
Gotham FC: 19' Estelle Johnson (yellow)
Gotham FC: 69' Nicole Baxter (yellow)
Racing Louisville FC: 73' Jaelin Howell (yellow)
Racing Louisville FC: 94' Freja Olofsson (yellow)
Referee: Thomas Snyder