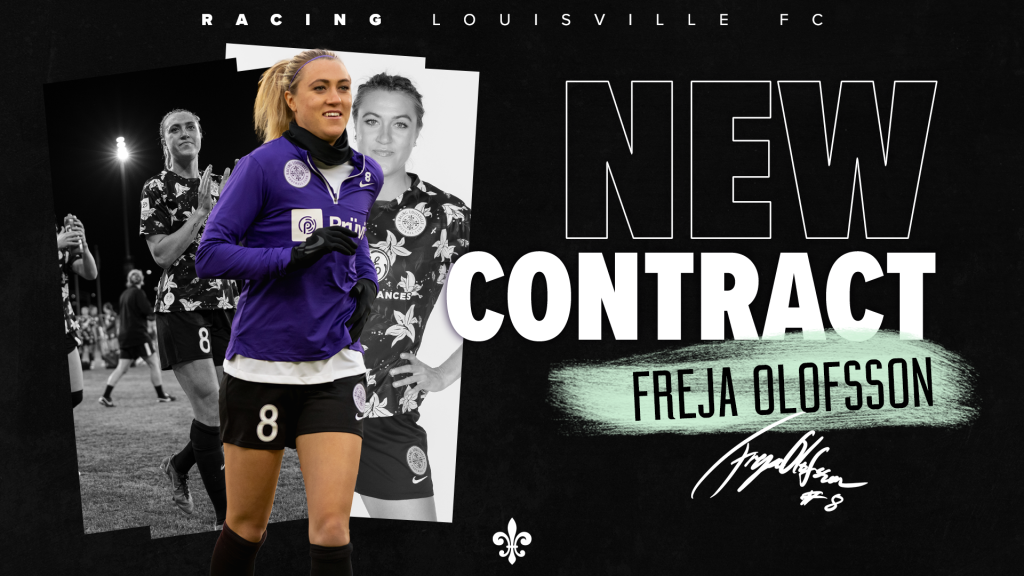 After a strong first season in lavender, Racing Louisville FC midfielder Freja Olofsson has signed a new three-year contract running through the 2024 season, the club announced Monday.
Arriving in the United States for the first time last spring, the midfielder quickly became a member of Racing's core. She spent the year playing out of her preferred position as a defensive mid but has moved to a more advanced central midfield position in 2022.
"I feel like I grew a lot last year personally and as a football player by developing things I wasn't as good at," Olofsson said. "With that being said, it took almost a whole year for me to adjust to things. That's another reason why I wanted to stay and give it more time.
"I feel very honored that the club wants me here. I think that's always a good thing as a player. I really believe in what the club is doing and working toward. I really enjoy being a part of this organization and working with everyone."
In 2021, Olofsson made 22 regular-season appearances, 20 of them starts. She ended the campaign fourth in minutes played (1,711) and also provided the assist to the stoppage-time equalizer in Racing's inaugural NWSL Challenge Cup game against the Orlando Pride.
On top of her play for the club, Olofsson has been getting looks at the international level, with multiple calls up to Sweden's Under-23 national team.
"First and foremost, I want to perform for Racing Louisville," Olofsson said. "Being on the national team is honestly a big bonus. I do want to make the first team. I have a goal in mind. I do want to play in the World Cup a year from now. I am working toward that." 
This year, Olofsson has remained a staple in Racing's lineup. During the Challenge Cup, she appeared five times, making four starts.
"I'm happy with Freja's re-signing," said Racing coach Kim Björkegren. "She was here from the start, and she brings a lot of energy to the group. Freja is always hard-working and continues to get better and better every day. I'm sure we will see her take another step as a player during this season."
Off the field, Olofsson has embraced American culture, from learning about the National Football League to listening to Bruce Springsteen.
"Being here is such a great opportunity to explore America," said Olofsson. "I'm just enjoying seeing different parts of the country when I have the chance. That's been one of my favorite parts about being here."