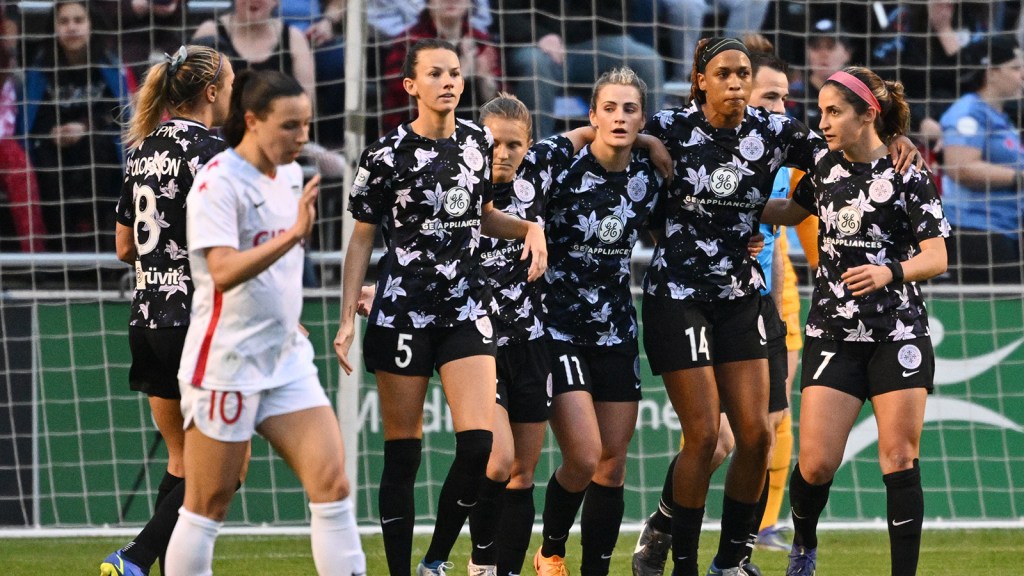 Star fullback Emily Fox scored her first professional goal, but Racing Louisville FC dropped its National Women's Soccer League regular-season opener on a stormy Saturday night in Illinois, falling 2-1 at the Chicago Red Stars despite persistent offensive pressure in the second half that nearly yielded the tying goal.
Racing spent almost all of the second half in and around Chicago's defensive half, peppering U.S. Women's National Team goalkeeper Alyssa Naeher with 14 shots and six on frame. The visitors also set two league records in the process, with 47 total crosses and 43 crosses from open play, but multiple big chances narrowly missed.
"It's difficult to explain the feeling right now because, on one hand, we're super disappointed over the result – we really thought we had a good chance to win tonight," said Racing coach Kim Björkegren. "We started the game not so well. … We tried to answer their questions on the pitch, and we're doing many things really well. We had (61) percent of the possession in an away game in Chicago. In the end, it doesn't matter. We need to create more chances, but we also need to be more hungry in the box."
It was the first time Chicago has beaten Racing in five meetings.
Ella Stevens opened the scoring just 67 seconds into the match, nodding in a corner to give Chicago an early lead.
But Racing responded within minutes. In the 10th minute, Cece Kizer played a neat ball into Fox, who shook a defender and fired a right-footed shot that deflected off another Chicago defender and slipped past Naeher. It was a goal that proved bittersweet for Fox, who had previously come close to scoring numerous times with both Racing and the U.S. Women's National Team in her previous 36 professional appearances.
"In the moment I was like, 'We need to score,' and I felt like I could have done more to help with the goal they scored," Fox said. "There really wasn't much celebrating. I felt like we needed to get after it. I'm very excited I scored, but I want the team to win."
Four minutes later, rookie Racing midfielder Savannah DeMelo almost gave Racing the lead when her swerving 25-yard free kick rattled the post.
Chicago struck next, taking a 2-1 lead in the 26th minute. Bianca St-Georges smacked a right-footed shot off the woodwork, and the ensuing fray in front of Racing's goal led to a loose ball leaking back in St-Georges' direction at the near post. Racing goalkeeper Katie Lund had already committed to diving in the opposite direction after the initial rebound, leaving St-Georges with a wide-open frame to slot home what stood as the game-winning goal.
Officials suspended play six minutes after the goal because of thunderstorms producing lightning in the area. The game resumed after an hour-and-26-minute delay, and Racing ratcheted up the pressure.
Substitute Emina Ekic came close to scoring Racing's tying goal on three occasions. Her crafty back heel at the near post required a save from Naeher, as did a well-struck shot from close range after a chip over three defenders by midfielder Jaelin Howell. Ekic almost replicated her dramatic free kick goal two weeks ago against Chicago during the NWSL Challenge Cup, skimming a 19-yard free kick just inches over the crossbar in the 79thminute.
Kizer also nearly netted the tying goal, with her 20-yard shot taking a deflection that forced a Naeher dive to her far post.
"I think we got a little unlucky with the two goals," DeMelo said, "but I think we showed what we're capable of both in the attacking third and the defensive third. We're just going to take what we learned from this game and move forward. It's the first game of the season, so we've got a long way to go."
Tap-ins
DeMelo, Howell and Julia Lester all made their debut NWSL regular-season starts. Each featured prominently in Racing's six NWSL Challenge Cup matches with Howell starting five, Lester four and DeMelo two.
Saturday marked the seventh team for which forward Jessica McDonald, in her 121st career start, has featured in an NWSL regular-season match, the most of any player in league history.
Game Summary: Chicago Red Stars vs. Racing Louisville FC
Date: April 30, 2022
Venue: SeatGeek Stadium (Bridgeview, Ill.)
Kickoff: 8 p.m.
Weather: 64 degrees, thunderstorms
Player of the Match: Emily Fox
Attendance: 3,028
Scoring
Chicago Red Stars (2, 0, 2)
Racing Louisville (1, 0, 1)
Goals
Chicago Red Stars:
2' Ella Stevens
26' Bianca St-Georges
Racing Louisville FC:
10' Emily Fox (Cece Kizer)
Lineups
Racing Louisville FC: 1 – Katie Lund; 11 – Emily Fox, 4 – Gemma Bonner (c), 15 – Julia Lester, 17 – Nealy Martin (32' 13 – Emina Ekic); 6 – Jaelin Howell (74' 22 – Kirsten Davis), 7 – Savannah DeMelo, 8 – Freja Olofsson; 2 – Lauren Milliet, 14 – Jessica McDonald, 5 – Cece Kizer
Subs not used: 24 – Jordyn Bloomer; 3 – Erin Simon, 26 – Addisyn Merrick; 14 – Taylor Malham, 19 – Taylor Otto; 9 – Ebony Salmon, 21 – Parker Goins, 23 – Sh'Nia Gordon
Head Coach: Kim Björkegren
Chicago Red Stars: 1 – Alyssa Naeher; 3 – Arin Wright, 31 – Amanda Kowalski (46' 25 – Ava Cook), 20 – Zoe Morse, 28 – Kayla Sharples, 23 – Tatumn Milazzo; 24 – Danielle Colaprico, 10 – Vanessa DiBernardo, 22 – Bianca St-Georges (60' 4 – Alyssa Mautz); 15 – Sarah Griffith (80' 14 – Jill Aguilera), 8 – Ella Stevens (69' 5 – Rachel Hill)
Subs not used: 21 – Emily Boyd; 26 – Mikenna McManus; 18 – Sam Fisher; 19 – Channing Foster
Head Coach: Chris Petrucelli
Stats Summary: Chicago Red Stars / Racing Louisville FC
Shots: 8 / 14
Shots on Goal: 3 / 6
Possession: 38.9% / 61.1%
Fouls: 10 / 15
Offside: 2 / 1
Corner Kicks: 3 / 7
Discipline Summary
Chicago Red Stars:
48' Danielle Colaprico (yellow)
68' Ella Stevens (yellow)
Racing Louisville:
75' Gemma Bonner (yellow)
Referee: Jeremy Scheer