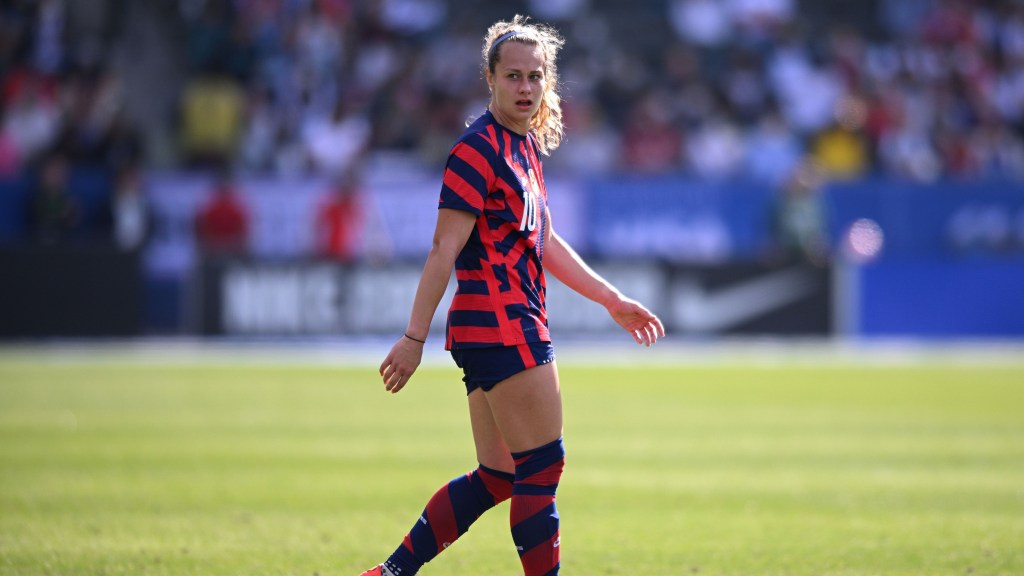 ---
After four NWSL Challenge Cup matches, Racing Louisville FC gets a weekend off from the preseason tournament action. During that time, five players on club's roster will join their respective national teams. Emily Fox (United States), Jaelin Howell (United States) and Ebony Salmon (England U-23s) — along with new signings Alex Chidiac (Australia) and Rebecca Holloway (Northern Ireland) — have each been called up for various competitions.
Fox & Howell – United States 
Coming off its recent SheBelieves Cup victory, the USWNT is set to play a pair of friendlies against Uzbekistan on April 9 and 12 in Columbus, Ohio, and Philadelphia, respectively. The Stars & Stripes continue to prepare for the Concacaf W Championships this summer. That tournament will determine the four countries that will automatically qualify for the 2023 World Cup and the one country automatically qualifying for the 2024 Olympics. 
Fox (11 caps) has started five consecutive matches for the USWNT matches dating back to October 2021. For Racing, she has made the start in all four matches this year, where she has impacted play both offensively and defensively.
Howell (four caps) came off the bench twice during SheBelieves Cup. So far in her rookie season, she has made three appearances and starts for Racing, anchoring the midfield. 
Ebony Salmon – England U-23s
England's U-23 squad is set to travel to San Pedro del Pinatar, Spain, for training camp, along with a pair of friendlies against the Netherlands' U-23 squad. Since October 2021, the Young Lionesses have a 2-1-1 record after returning from a three-year hiatus.
Salmon joins the U-23s for the third-straight camp. She has captained the team for three matches and has logged 2 goals and 3 assists. So far in the Challenge Cup, Salmon has made two appearances, including one start. 
Alex Chidiac – Australia
The Matildas have a pair of friendlies against New Zealand scheduled Friday and Tuesday in Townsville and Canberra, Australia. The two countries automatically qualified for the 2023 World Cup as hosts. 
Chidiac, announced Monday as a Racing signing, was a late addition to the group after she replaced Kyra Cooney-Cross in camp. At the age of 23, Chidiac has been in and out of the Australian senior national team since she was 16, tallying 17 caps and one international goal. 
Following international duty, the Australian international will join Racing upon receiving her work visa.
Rebecca Holloway – Northern Ireland
The Green and White Army continue their qualifying campaign for the 2023 World Cup when they travel to play Austria on Friday and host England on Tuesday. Currently, Northern Ireland sits third in its group (13 points, +24 GD) behind England (18 points, +53 GD) and Austria (13 points, +25 GD) with the top team automatically qualifying for the World Cup and the second-place finisher advancing to the playoffs.  
Holloway, who signed with Racing last week, has appeared in three of the six World Cup qualifiers this cycle, scoring three goals. As with Chidiac, Holloway will join Louisville for the first time once she receives her work visa. 
How to follow along
Friday, April 8
Australia vs. New Zealand (5:45 a.m. ET, Paramount+)
England U-23s vs. Netherlands* (2 p.m. ET)
Northern Ireland vs. Austria# (2:30 p.m.)
Saturday, April 9
USWNT vs. Uzbekistan (5:30 p.m. ET, FOX)
Monday, April 11
England U-23s vs. Netherlands* (6 a.m. ET)
Tuesday, April 12
Australia vs. New Zealand (5:45 a.m. ET, Paramount+)
Northern Ireland vs. England (2:55 p.m. ET, Paramount+)
USWNT vs. Uzbekistan (7 p.m. ET, ESPN2)
---
* Follow @Lionesses on Twitter for updates and streaming information.
# Follow @NorthernIreland on Twitter for updates and streaming information