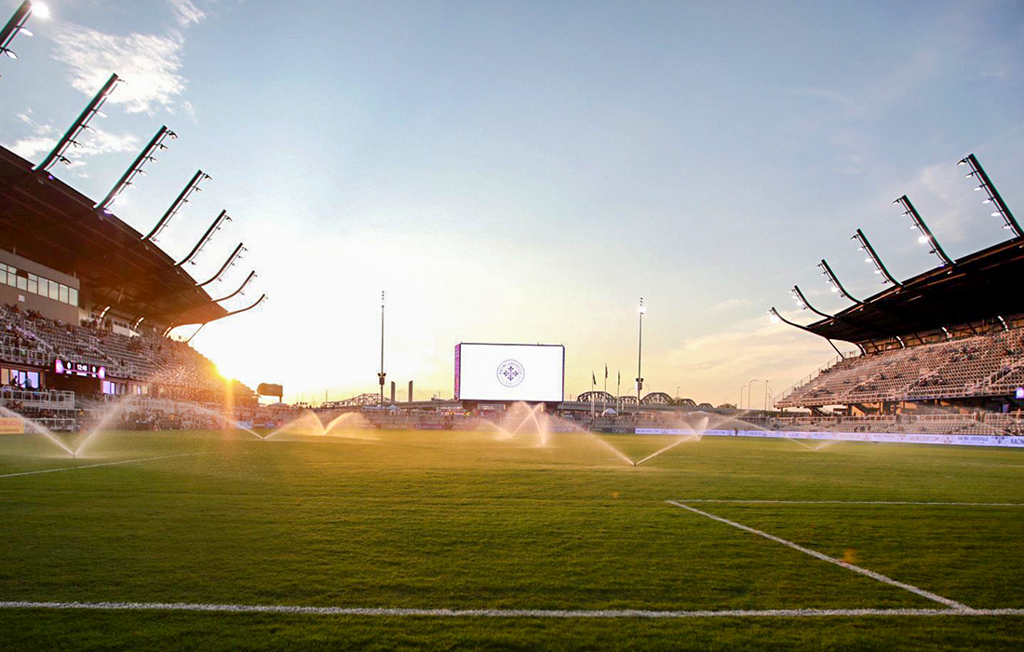 SEASON TICKET FAQS
---
DO I HAVE TO SELECT MY SEATS THROUGH AN ONLINE PORTAL?
Seat selection in the portal is the easiest and most efficient way to select your season tickets, but we are always happy to help our Season Ticket Members in person or on the phone. Please call (502) 568-2489 to arrange help with selection outside the online portal.
---
HOW MUCH ARE SEASON TICKETS?
Season Tickets will range from $16 – $53 per seat, per match, excluding suite, loge and club seating.
---
HOW IS PRIORITY ESTABLISHED?
Racing Louisville FC Season Ticket Member priority is established when you first purchase your season tickets. Priority is maintained by consecutive years of a Season Ticket Membership purchase.
---
I AM INTERESTED IN A SUITE OR CLUB SEATS; HOW MUCH ARE THOSE?
You can view all our premium ticketing options here. The best way to secure premium seating is to call us (502) 568-2489 to arrange a concierge appointment for your suite, loge or club seating.
---
IS THERE A PAYMENT PLAN AVAILABLE?
All season ticket reservations require at least 20 percent down at the time of check out. Racing Louisville FC is happy to offer a 12-part payment plan to all Season Ticket Members. The plan will help defray the one-time cost of season tickets into monthly installments.
While many fans will utilize the convenient payment plan, fans who choose to pay in full at the time of checkout will receive a 3% discount. Regardless of how you choose to pay, all fans will be enrolled in our Auto-Renew Program, which will secure your seats for this year and beyond.
---
WHAT IS THE AUTO RENEW PROGRAM?
Regardless of how you choose to pay – in advance or in a monthly plan – all fans are enrolled in our Auto Renew Program, which will secure your seats for this year and beyond.
Via Auto Renew, you will not need to go through the renewal process next summer. You may choose to opt out of the auto renewal during a designated opt out period before this year's ticketing begins.
---
WHAT ARE THE BENEFITS TO BEING A SEASON TICKET MEMBER?
Best home game experience in the league, featuring the brand new Lynn Family Stadium
Name etched on Racing Louisville FC Founding Member Plaque
Significant savings over purchasing individual game tickets
Exclusive Season Ticket Member scarf
Online and in-store discount to our Team Store
Access to exclusive Season Ticket Member event
Season Ticket Member Identification
Ability to resell or transfer tickets in SeatGeek
First opportunity to purchase tickets to playoff and exhibition matches, and additional tickets to regular season matches
Presale access to Lynn Family Stadium events
Stay in the know with exclusive Season Ticket Member e-news
---
HOW DO I SIT NEAR MY FRIENDS OR FAMILY?
The easiest way is to coordinate with your friends or family to find out where they are sitting. If you would prefer to purchase alongside a larger group, we will work to accommodate all requests through our Season Ticket Member support staff at (502) 568-2489.
---
WHERE WILL THE AWAY TEAM'S FANS BE SITTING?
Away team fans will have seats available for purchase in Section 228.
---
HOW MANY SEATS ARE AVAILABLE IN LYNN FAMILY STADIUM?
The stadium will have 11,700 permanent seats with an overall capacity of 15,304.
---
ARE STUDENT TICKETS AVAILABLE IN LYNN FAMILY STADIUM?
Yes! Racing Louisville will continue offering local students a discounted rate for student tickets. Student tickets are available in the Estopinal End and Waterfront Supporter Zone for $70 (full up front cost) and pro-rated throughout the season.
To utilize student ticket pricing: Call (502) 568-2489 or click here. Students will need to have a valid .edu email address and provide a copy of their student ID.
---
DO MY TICKETS GIVE ME ACCESS TO OTHER EVENTS IN THE STADIUM?
All Season Ticket Members will get a pre-sale link for non Racing regular-season games, but being a Season Ticket Member of Racing Louisville FC does not guarantee your seat for concerts, international friendlies or other sporting events.
---
DOES MY SEASON TICKET INCLUDE PARKING?
Parking is not included for Season Ticket Members. We will have spaces adjacent to the stadium available for purchase and we are working on securing additional spaces around our stadium to provide season-long or per-game parking passes for our fans.
---
INTERESTED IN BECOMING A SEASON TICKET MEMBER?
---
Season Tickets are available now at racingloufc.com/tickets.
Call (502) 568-2489, Option 2 for more details.